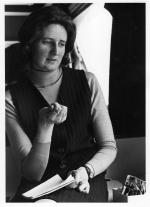 EXCEPTIONALLY talented, artistically gifted, Ailsa Hamilton was involved in the production of documentary films about two influential figures of the 20th century: Frank Buchman and Alexander Solzhenitsyn. She also had a long association with various African countries, including Kenya, Uganda, Zimbabwe and South Africa, thanks to her life-long commitment to the Moral Re-Armament movement, founded by Buchman. Ailsa was a true and trusted friend of a number of younger African women leaders.
Born in 1933, she was the eldest of four children. Her paternal grandfather, John Brown Hamilton, had founded St Mary's School in Melrose in 1909. The family of her mother, Beatrice Fagan Morton, had been leading lights of the Arts and Crafts movement in Carlisle and Edinburgh. 
Her father, Loudon Hamilton, was one of the first students – including members of the Beef and Beer Club – to join American minister Frank Buchman in Oxford in 1921, in the movement of Christian renewal that became known as the Oxford Group. They met at first in Hamilton's Oxford rooms and he went on to devote his life to the work of the Oxford Group and its successor, Moral Re-Armament (MRA, now renamed Initiatives of Change).
Ailsa was evacuated to Canada during the Second World War with her brothers and sisters. After the war she attended the girls' boarding school Westonbirt, in Gloucestershire, where her life-long friend the Hon Mrs Juliet Boobbyer remembers her as "brilliant". All her school certificate papers were graded over 80 per cent and Boobbyer still recalls "the ripple that went through the great hall" as the results were read out.
Instead of going on to higher education, in pursuit of a career in the Foreign Office, Ailsa took the humbler route of a secretarial course in order to make her services available to the work to which her father had given his life. She shared his conviction that a change in the world had to start with a change in the individual, based on a daily search for God's guidance. 
Her work with MRA took her to France and Africa in the years after she left school. Throughout her life she brought her intellectual gifts and insights to MRA, not least at its international centre for reconciliation which opened in Caux, Switzerland, in 1946, and in helping to develop its leadership structure. 
In 1972, Ailsa and Boobbyer brought together a team to create a multimedia theatre production, Crossroad, about Buchman, who had died in 1960. Ailsa was co-producer. Shown in the Westminster Theatre, London, it was a pioneering production, using slides, film, drawings and live music. The Stage magazine wrote: "Long before the opening night, the producers must have realised they had something remarkably excellent." It was turned into a documentary film, which Ailsa also co-produced. 
Later she was to work closely with Garth Lean in researching his major biography of Buchman. In his preface, Lean paid tribute to Ailsa as his "day-to-day editor …whose help has been invaluable and has often amounted to co-authorship."
In the early 1970s, Ailsa also developed a slide production, with taped voiceover, of Solzhenitsyn's 1970 Nobel Prize lecture, One Word of Truth. Solzhenitsyn declined to go to Stockholm to receive the prize for fear that the Soviet authorities would not readmit him on his return. 
Ailsa was a founding trustee of Anglo-Nordic Productions Trust, which turned One Word of Truth into a multi-award winning documentary film, with the actor Tom Courtenay giving the commentary. The film's text was drawn from Solzhenitsyn's Nobel Prize for Literature acceptance speech, published in 1972.
The film, released in 1980 and now in 16 languages, won the bronze medal in the 1982 International Film and TV Festival of New York and the Red Ribbon in the literature category of the 1984 American Film Festival. It also won for its director, Peter Sisam, Best Film of the Year for a member of the Royal Photographic Society. When Solzhenitsyn returned to Russia after years of exile in the US, he took two copies of the film with him. The film remains one of Ailsa's enduring legacies. 
Her other enduring legacy lies in the affection and memory of her African friends. Nigerian Ahunna Eziakonwa, a regional director of the United Nations in Southern Africa, visited Ailsa in Melrose days before her death. "Ailsa was my mentor in every sense of the word," says Eziakonwa, who recalls "her humour, her wise counsel, her unique perspectives on life and living, her creative mind, her grace and her spiritual elegance. 
"Her thoughts on my challenges as I try to lead the UN development efforts in Lesotho were most profound. She reminded me that no matter how poor the people we are trying to help may be, we must not impose our ideas on them. She told me that was what the imperialists did and it was wrong. But of everything I learnt from Ailsa, what influenced me the most was her integrity and authenticity."
Fashion designer Amina Dikedi-Ajakaye, also from Nigeria, says: "It did not matter whether you were the wife of a president or a student, Ailsa loved and cared for the individual. I admired and appreciated Ailsa's calm demeanour, her understanding and intuitive spirit. I shared a love of art, fashion and colour with Ailsa. She would send me some fashion cuttings or announcement of art exhibition or movies to see. Whatever it was, Ailsa was thorough."
Ailsa moved from Oxford to live the last 15 years of her life in Melrose, where she was diagnosed with cancer. Before her death on 31 May, she had been working on a major biography of the great American mezzo- soprano Muriel Smith, who had sung the title role in Carmen at Covent Garden. American friends have promised to see the book through to publication. 
Born 23 January, 1933, at Craigiehall, Dalmeny; died 31 May, 2010, in Melrose, aged 77.
First published in The Scotsman, 21 June 2010