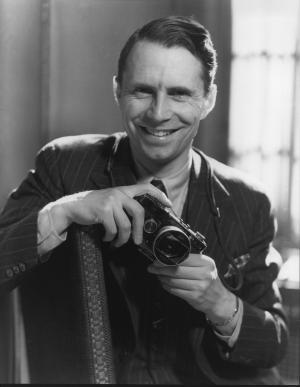 The pioneering portrait and news photographer Arthur Strong, who freelanced for the Associated Press and Camera Press agencies, is best known for his exclusive portrait photos of C S Lewis, the Christian apologist and author of the Narnia stories. Lewis, who was notoriously camera shy, gave Strong unprecedented access to him in his study in Magdalene College, Oxford, to take the photos in 1947. Three are at the National Portrait Gallery in London, and one of him sitting at his desk was used for the dust jacket of A N Wilson's best selling biography of Lewis. The gallery retains 12 of Strong's photo portraits.
Other public figures who posed for Strong included Jawahalal Nehru (at the League of Nations in Geneva, 1935), who became first Prime Minister of independent India, Eduard Benesch, the Czechoslovak Prime Minister and President of the League of Nations (1936), and Prince Faisal, later King of Saudi Arabia (at the UN, San Francisco, 1945).
Strong experimented with colour photography in its early days. He was the sole British press photographer at the launch of the United Nations in San Francisco in 1945, and was the only photographer to take colour pictures of the opening ceremony. They were published around the world and were still being used 50 years later. One was of Lord Halifax, head of the British delegation, signing the treaty, and another was of the Soviet Foreign Secretary Vyacheslav Molotov with Andrei Gromyko, then ambassador in Washington DC.
Arthur Strong was born in 1908 in Banstead, Surrey. He was apprenticed in 1930 to the renowned portrait photographer Howard Coster in Essex Street, off Fleet Street, whose subjects included King George V, Bernard Shaw and Lawrence of Arabia.
The following year, Strong began experimenting in natural 'available light' portraiture, rather than using studio arc lights. He pioneered the technique and used it almost exclusively from then on.
His work attracted the attention of the Associated Press who commissioned him to cover Hitler's mass party rally at Nuremburg in 1937. Strong was arrested and imprisoned by the Gestapo for trying to photo Hitler with a telephoto lens without the necessary permit. AP's representative in Germany secured his release, but the Gestapo continued to shadow Strong from then on.
Kodak had used Strong's natural light pictures of children for its publicity and, in 1934, the company offered to build him a studio in London. Kodak wanted him to handle one of its main clients, Benson Advertising. But that year Strong had encountered Frank Buchman's Christian movement, the Oxford Group. Buchman put to him: 'Why not come and photograph this revolution?' Strong responded, turning down Kodak's invitation.
He took the front cover photograph, of a crowd of young Britons, for the Group's mass circulation magazine, Rising Tide (1937), which had a print run of 1.5 million in eight languages. The photograph was declared 'picture of the year' by the UK's Institute of Professional Photographers at its national exhibition. When Buchman launched the Group's programme of 'Moral Re-Armament' (MRA) in London in 1938, and in the USA at the beginning of World War II, Strong travelled with him.
Strong was at the West Coast launch of MRA at the packed Hollywood Bowl in 1939. Trying to capture the size of the event, he had the insistent thought to get out and climb the nearby hillside. There he photographed the four searchlight beams reaching up into the night sky from the stage, symbolizing the four absolute moral standards advocated by MRA—honesty, purity, unselfishness and love. Within seconds there was a power failure. Strong always said afterwards that had he not obeyed his impulse the moment would have been lost for ever. The picture was published on the front cover of the French magazine, L'Illustration (July 1939).
Strong would use this experience to train younger photographers to be alert to the unexpected inner promptings, which might give an extra dimension to their skills. His talent lay in capturing the precise moment in an age before fast-action, wind-on camera motors were invented. His favourite camera in those days was a German 35mm Contax model.
He was not averse to telling the odd tale against himself. Once, Buchman commissioned him to take an important photograph of somebody some 200 miles away. Strong returned from the assignment only to discover that he had forgotten to put film in his camera.
Some of America's leading photographers became his friends including Edward Steichen, at that time Director of the US Naval Photographic Institute, and Arnold Genthe whose photos of Greta Garbot paved her way to Hollywood. Karsh of Ottawa told Strong: 'I would love to do what you are doing. But I have an expensive wife. That is why I have to go to Hollywood to photograph the lovelies.'
Strong returned to England in 1945, where he took a series of graphic photo stories for magazine publication, such as coal miners working to ease the post-war fuel shortage. His aim was always to illustrate the human factor and the importance of human relationships.
In 1946 he married the Norwegian designer and landscape painter Signe Lund. In 1951, he was given 40 minutes of exclusive access to photograph the four-year-old heir to the Swedish throne and present king, Karl Gustav, scooping Time Life, Paris Match and Stern which were not allowed access. The following year in Helsinki, he took the first ever colour action photos of the Bolshoi Ballet, during an open air performance at the Olympic Games celebrations, shot from the 4,000-strong audience on a 35mm Leica at one eight of a second. The picture is now in the Bolshoi's museum in Moscow.
He and Signe travelled in the 1950s throughout Africa, where MRA was extensively at work in helping to ease the transition to independence of African countries. In Ghana he took exclusive photos of President Kwame Nkrumah at the Independence Day celebrations in 1954.
In 1985 they settled in Sweden from where he kept up a correspondence with young photographers all over the world.
Arthur Philpot Strong, photographer, born Banstead, Surrey, 26 April 1908, married Signe Lund, 1946 ( one daughter) died Falun, Sweden, 6 January 2004.
This obituary first appeared in The Independent, UK, 13 January 2004