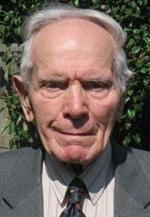 At the age of 96, Bert Reynolds, Publisher of The Industrial Pioneer, was still working on the publication's website on the morning before he collapsed and died.
Reynolds was an indefatigable campaigner for better industrial relations and investment in Britain's manufacturing base, particularly in the West Midlands, where he lived in Birmingham. He used the columns of The Pioneer, described as "a constructive shop- floor voice of British industry", for that purpose, writing many articles into his senior years.
Lord (Bill) Jordan, former Secretary General of the International Confederation of Free Trade Unions, says that Reynolds' "unstinting" work to produce industrial harmony is "probably just as relevant now. He was in contact with many union leaders, trying to build relationships during Britain's turbulent years of industrial relations. That work went unrecognised and was hardly known. He did a lot of work to promote industrial harmony and didn't look for praise."
A former member of the Post Office telecommunications workers' union, Reynolds became the Publisher of The Industrial Pioneer in 1987 when he was already in his seventies. He had retired, aged 60, from the Post Office in June 1975, having worked there for 45 years.
The Industrial Pioneer, published monthly since the 1960s, though more recently bimonthly, was seen in the trade union movement as the moderate voice of trade unionism. It was never affiliated to any political party, though Reynolds and the editorial team came more from the Christian socialist tradition of Labour's founding father, Keir Hardie, than from that of the hard left. The paper was funded by subscriptions and donations from supporters as well as a willing volunteer staff of writers.
When the printed edition ceased publication in March 2007, Reynolds created the online edition with the help of his son William. He would probably have earned a mention in the Guinness Book of World Records as the world's oldest online editor.
Born in Wrockwardine, near Telford in Shropshire, in 1915, Reynoldsmarried Iris Stephens, a fellow Post Office worker, in 1940. After the war they moved to Hereford, where hewas active in the local Labour Party and was its agent for many years. On his retirement in 1975 they moved to Birmingham.
David Owen, the former Chairman of Rubery Owen, the automotive components group, says that Reynolds rejected the "Red Robbo" approach of industrial class war. Rather: "his great writing, his great song, was to build up trust between management and unions, and he lived that out in his own lifecompletely. The great thing about Bert was his total wish to understand the big picture. He was always probing thefuture and what could be done about it." The paper's website describes its focus as "industry and business meeting world needs".
Mike Sheehan, a former director at the British Leyland Longbridge car plant, and his wife Anne, were regular hosts of Industrial Pioneer gatherings, organised and chaired by Reynolds. The last one, held in September, was addressed by Professor Lord Bhattacharyya, founding Chairman of the Warwick Manufacturing Group at Warwick University, promoting manufacturing investment in the West Midlands.
The growth and retention of British manufacturing in the Midlands, with its engineering skills base, remained a cause close to Reynolds' heart. He maintained close links with a wide range of trade unionists, business people including Sir Adrian Cadbury, academics, community leaders and others.
He was a regular participant in the annual conferences on Trust and Integrity in the Global Economy held in recent years at the Initiatives of Change conference centre in Caux, Switzerland. Retaining an alert mind, Reynolds would stay up late for evening discussion groups despite his great age.
He collapsed at his home in the Birmingham suburb of Moseley and was taken to the Queen Elizabeth Hospital, where his death from heart failure was confirmed. His wife Iris predeceased him and he is survived by their son William.
Albert Reynolds,post office worker, trade unionist and journalist: born Wrockwardine, Shropshire 13 June 1915; married 1940 Iris Stephens (deceased; one son); died Birmingham 6 January 2012.
First published in The Independent, 16 January 2012