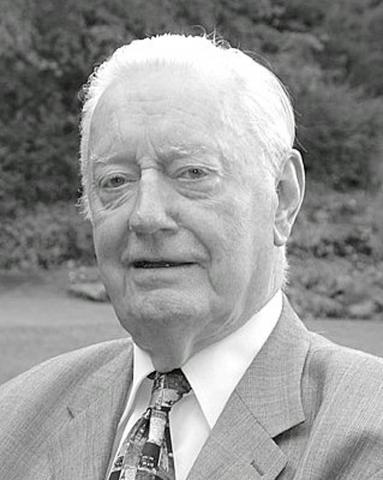 While many retired business executives might take to the golf course or join bridge parties, Bill Porter found his life taking off in an altogether different direction. He was already 70, and with a lifetime's career in journalism and publishing behind him, when he launched the International Communications Forum, a global media ethics campaign, in 1990.
He founded ICF out of his passionate concern about the media's influence on society for good or ill – and a conviction that he had been too often motivated by personal success and the bottom line. He chaired ICF for the next 14 years, as it gained a global following of over 2,500 media professionals from 116 countries. In many ways, the ICF was for Porter the crowning fulfilment of a distinguished publishing career.
Porter had founded the British arm of the Dutch legal publishing multinational Kluwer in 1970, heading its expansion into Britain as managing director of Kluwer Publishing. It eventually widened into 14 companies and imprints and in 1984 he was appointed deputy chairman of Kluwer UK.
Elected as chairman of the Law Panel of the Publishers Association in 1985, he supported Salman Rushdie's freedom of expression during the furore surrounding The Satanic Verses. But the panel also urged publishers to be more careful in the future. Porter agreed with Zaki Badawi, then chairman of the Imams and Mosques Council of Britain, who said he would not oppose Rushdie's book if some pages were expressed in more moderate language. Had senior executives at Rushdie's publishers taken heed, the whole affair might never have arisen, Porter believed.
It was issues like this that led Porter to launch ICF, three years after his retirement. Another impetus was an article in the Financial Times stating that communications was the largest industry in the world. Yes, Porter reflected, but are we the most responsible?
"If you are thinking that way," his Yugoslav wife, Sonja asked, "then why don't you do something about it?" Three weeks later, Sonja died tragically young due to undiagnosed hepatitis, and this also spurred Porter to act in her memory. Do Something About It! (2005) became the title of his autobiography.
ICF was launched in Caux, Switzerland in 1991 and has since held nearly 30 conferences at venues around the world. Professor Rajmohan Gandhi of the University of Illinois wrote that Porter "loved the media but demanded high standards from it... with such charm that editors the world over thanked him for his pressure."
The ICF is most noted for its Sarajevo Commitment, a statement of best practice which media professionals are encouraged to sign. It was launched in 2000, after a Bosnian Muslim radio journalist invited Porter to organise an ICF event in the Bosnian capital. Senad Kamenica had been incensed by the reporting bias of local Bosnian Serb and Croat journalists, which had whipped up ethnic tensions before the outbreak of the Balkans war of 1992-95.
The document, translated into 17 languages, has made a considerable impact. Jay Rosen, professor of journalism at New York University, compared it with Lincoln's Gettysburg Address. The former BBC newsreader Martyn Lewis became another keen advocate, while the Times columnist Magnus Linklater now chairs ICF's British chapter. Others were more sceptical about its overt idealism. But Roger Parkinson, president of the World Association of Newspapers, said that the ICF "had put the issue of the effects of the media on society on the global agenda".
Martin Bell, the former BBC war correspondent, wrote: "Bill Porter was an inspirational figure and the moving spirit behind the Sarajevo Commitment of September 2000, which set out a much-needed declaration of principles for journalists. It was in that city during the Bosnian War that we came to understand that we did not just reflect, but affect, the world around us. We had responsibilities as well as rights. The Sarajevo Commitment is the best statement of those realities that I know."
Porter was always keen to avoid calls for censorship, but liked to describe the ICF as a "conscience-to-conscience" activity. Media professionals were encouraged to exchange experiences and reflect for themselves on the balance between freedom and responsibility in the media. The conscience, Porter maintained, was the best guide to professional responsibility. "[It is] that remarkable piece of high technology that is inside us," he said, "albeit often covered over with the compromises of a lifetime, but which enables us to choose right from wrong, truth from falsehood."
Bill Porter was born on a farm in East Anglia in 1920 and grew up in Lancashire. At Liverpool University his search for a spiritual base in life was "backed into second place by my devotion to worldly success and pretty girls." He served as a lieutenant during the Second World War, in North Africa, Italy and India, where he was a signals officer with the 17th Indian Infantry brigade.
After the war, Porter worked for a spell with the Moral Re-Armament movement, but broke with it over a disagreement about aims and tactics. But he also admitted that he found MRA's emphasis on sexual morality "very restrictive – I was looking forward to my freedom in that respect." Peter Howard, a Beaverbrook columnist who became MRA's leader, told Porter: "You are meant to be a mighty tree, under whose branches many people can find shelter and purpose." It was to be 35 years before Howard's vision for Porter was realised through the ICF.
Porter spent three years as a freelance journalist, reporting on Tito's Yugoslavia. His city guide and interpreter in the Croatian port of Rijeka was an attractive red-haired woman, Sonja Aleksic. "My priorities steadily shifted away from the pursuit of the story to the pursuit of the lady," Porter wrote. They were married in 1962.
Porter brought Sonja to London, where he became the marketing director for John Grant's Eurobooks Ltd. This involved travelling to bookshops and universities all over Europe. When Grant gave Porter the sack, largely over a misunderstanding, he was taken on by Kluwer.
Large, bluff and jovial, Porter described himself, on his journey towards a faith, as a "lapsed agnostic". Reflecting on the ICF he said, "When I decided to take this road, I experienced a sense of inner compulsion that has never left me. Where does it come from, if not from some superior guiding force in the universe?"
William Erasmus Porter, publisher and campaigner: born Chapel, Essex 21 July 1920; married 1962 Sonja Aleksic (one son, one daughter); died Le Touquet, France 1 April 2009.
First published in The Independent on 10 April 2009