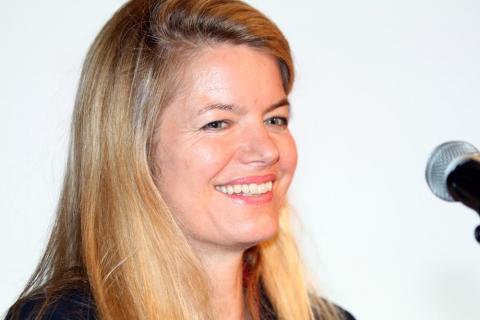 Sophia Swire is never likely to forget that Friday in October 1987 when stock markets began to go into free fall. It was just before Black Monday. At the time she was a merchant banker with Kleinwort Benson in London, fresh out of university and a high-flyer, fully expecting to break through the proverbial glass ceiling of female promotion.
But that day all hell broke loose. 'There was a cut-throat atmosphere,' she recalls. 'Quite a number of my friends were fired over lunchtime. They weren't allowed back in the dealing room. We found ourselves fighting over our clients and I had a stand-up argument in front of 500 people on the dealing room floor, mainly men, about a major client of mine-the Vatican-whom my boss was trying to steal from me. We almost came to blows.'
In the midst of the mayhem, Swire realized she was 'fighting tooth and nail for something I didn't believe in'. There and then, she decided to get out and do what she had secretly wanted to all along: development and journalism. 'I had always been a big traveller and adventurer. I was keen to write and wanted to make a difference. None of this was satisfied by my city job.'
She took off for a three-week holiday in Pakistan's Northwest Frontier Province, landing in Peshawar, close to the Khyber Pass and south-east of the Hindu Kush mountains of Afghanistan. She was drawn there, she says, by 'the romance' of the Hindu Kush as well as the Soviet-Afghan war in Afghanistan, where a number of her contemporaries had gone as correspondents and cameramen. Her brother, Hugo Swire, had set up a TV satellite facility in Peshawar 'and was full of stories of the Mujaheddin'.
She visited Chitral in northern Peshawar, in the foothills of the Hindu Kush, a place of breathtaking beauty. On her first day there she experienced what she calls her coup de foudre-her lightening flash of revelation. It was her 25th birthday in September 1988. She was watching local tribesmen play 'a wild polo match against the backdrop of the incredible granite mountains which shoot 25,000 feet into the sky. I had never seen anything so beautiful, so dramatic. I thought, "This is it. This is my spiritual home."'
After the match, the Deputy District Commissioner for Chitral, a Punjabi army major called Javed Majid, came up to her and said, 'You are the kind of woman I have been looking for to help me set up a school here.' 'Why me?' she asked. 'Well, did you go to university?' he replied. 'Yes.' 'In that case you have 15 years more education than most of the local women here.' He had tried to recruit teachers from down country in Pakistan but it was considered a hardship posting and no one would come. He explained that he was desperate for English teachers because the language would enable local Chitrali-speaking girls, who did not even speak Urdu, to go eventually to university. 'Within one generation the standard of living of this whole valley will rise.'
Recognizing her kismet, Swire agreed. Majid asked her to find other English women to join her and bring library books and school equipment. 'OK, consider it done,' Swire replied.
Back at Kleinwort Benson she handed in her notice. Her friends were shocked 'because I was being groomed for the top'. Kleinwort Benson's chairman offered to keep her job open for a year, telling her that what she was doing was completely wonderful and totally mad. Swire says, 'The second I handed in my notice I didn't look back. Very few things I have done in life have been like religious experiences. Leaving my job was one.' She used her Christmas bonus money from Kleinwort, before her final departure from the bank, to buy schoolbooks and equipment. Flying back to Pakistan in January 1989, she and four English friends assisted Major Majid and his wife to recruit local teachers. Within months Sayurj Public School opened with 40 children, aged four to 12. Today there are 500.
She left Chitral a year later to set up a non-governmental organization fighting heroin abuse under the auspices of the Pakistan Narcotics Control Board. But some 'rather unpleasant' politicians took fright and a senior government minister advised her to leave the country. She returned to report for the BBC's World Service radio and television, 'because I had a fairly unique access and understanding'. Few Westerners, she says, have any real understanding of or compassion for Pakistan.
Then, in 1993, Afghan refugees in Peshawar asked Swire if she would help sponsor their six schools for 3,000 girls in the Northwest Frontier Province. She realized that to raise the funds needed she would have to form a registered educational charity in Britain. Five years ago this November she and her friend Charlotte Bannister Parker-daughter of the athlete Sir Roger Bannister who first broke the four-minute mile-launched Learning For Life. Bannister Parker had worked in India, researching the role of women, as well as with ActionAid in Nepal, and she suggested the name for the charity.
Today LFL supports over 160 schools in Pakistan, two in India and others in Nepal, benefiting over 10,000 children-mostly girls. These 'grassroots village community schools' are initiated by local people, to whom LFL donates basic school equipment, seed money and teacher training. LFL is the only European aid organization targeting girls' education in Asia 'as the most effective route to long-term development', says Swire. It has received funds from Britain's Department for International Development-£200,000 so far-and from the National Lottery's Charity Board, as well as through sponsored fund-raising events. Swire and Bannister Parker persuaded the film distributor Buena Vista to dedicate its glittering London charity premiere of Little Buddha to LFL, raising £35,000. This year, the London premiere of a documentary film about Jinnah, Pakistan's founding father, which Swire had produced for television, raised over £18,000.
The needs are enormous. One hundred and thirty million children worldwide receive no primary education-77 million of them girls. The vast majority of the world's 800 million illiterate adults are women. Illiteracy in Asia is worse than in sub-Saharan Africa, and in some areas of rural Pakistan only two per cent of women are literate. Yet a 1993 World Bank report said that education for girls is one of the most rewarding investments a nation can make. 'After all,' says Swire, 'as well as improving their social and economic status, literacy gives the girls more access to other development messages such as primary health care, or birth control. Basic education means they don't drink infected water; they look after their siblings better; it changes their aspirations.'
It also changes the values of the men. At first the mullahs in particular suspected that Swire and her colleagues were spies or Christian fundamentalists with a hidden agenda of conversion. 'Nothing could be further from the truth,' asserts Swire, who says that this is one reason why LFL works in association with Pakistani bodies, particularly the National Rural Support Programme. Now, the mullahs are putting their own children into the schools and are encouraged to be on the schools' management boards. 'Then,' says Swire, 'the mullahs re-read the Qur'an and see that Mohammed did recommend education for girls as well as boys!'
Swire says she finds it profoundly humbling to visit the schools which have benefited. 'It is one of the most exciting things to see how a tiny school which costs us approximately £250 a year is changing the values of whole communities. Some children will go back to work in the fields. That's understood. But at least they will be able to read their street signs; to vote in a more mature and responsible way; to be less vulnerable to the feudal landlords who want to buy their votes. They will be more conscious and intelligent about their choices.'
Swire emphasizes that, being small and flexible, Learning For Life is able to respond to the needs of communities at a grassroots level. 'Working in partnership with local non-governmental organizations and individual village communities is the secret,' she says. 'We are trying to build these infrastructures because we strongly believe that we shouldn't be around for ever. We don't want to build a dependency.'
But whenever she personally has thought of bowing out she has had 'strong messages from whatever it is up there that looks after us that I have to stay on this path'.
Once, when she was contemplating resigning from LFL's board of trustees, of which she is Chair-'to focus on becoming a multi-millionaire'-she visited Saks department store in Washington DC, to sell her Pashmina-Cashmere shawls to the buyer (another business she runs on the side). In the window display 'between a chic pair of gloves and the dark glasses' she saw 'a scrumpled old newspaper with the banner headline "Learning for life". A chill rose through my body and I thought okay, whoever you are up there ruling my life, I get the message.'
She says she's not had a single regret about giving up her banking career. Once, as she returned from a spell in Pakistan, where she had found 'real fulfilment', the airliner's fuselage started cracking up and the plane began falling out of the sky. 'I was 26 at the time and I remember thinking, "Thank you for a fantastic life".' She hopes that the Asian girls who benefit from LFL will be able to say the same.
First published in For A Change magazine, 1 December 1998.