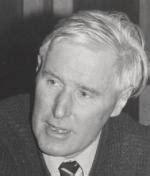 Brian Boobbyer was an outstanding all-round sportsman who played nine times for the England rugby union team with conspicuous success in the early 1950s and opened the batting in cricket for Oxford University.
However, at the age of 24 he turned his back on a high-profile sporting career to devote the rest of his life to Moral Re-Armament (MRA).
Brian Boobbyer was born in 1928 and grew up with a passion for sport. His grandfather had played cricket for Oxford University against the Australians in 1882 before becoming Bishop of Buckingham. Sport and religious faith were a family tradition. At Uppingham School, Boobbyer played cricket for the first XI, captained the hockey team and became head of school.
His first love was cricket. At rugby he was fast, but hated tackling. That all changed when he was unable to avoid an opposing forward and had to tackle hard. "Overnight," Boobbyer said, "a game I hated became a game I loved."
He played for England schools at rugby and cricket, scoring a century in his first appearance at Lord's. At Twickenham against the Welsh schools, he ran behind the posts to score a winning try only to be tackled over the dead-ball line. England lost and a newspaper commented: "This young man will not make the same mistake again."
Following National Service in the Army, he went up to Brasenose College, Oxford, in 1948 to read history. Winning his cricketing Blue in his first year, he modestly described himself as "the kind of opening batsman to be 25 not out at lunch".
In rugby he caught the eye of the England selectors while playing for Oxford and made his debut against Wales in the Five Nations Championship in 1950, playing in all four games of the season. The following year he scored against France at Twickenham, before touring South Africa with a combined Oxford and Cambridge team.
In the 1952 five nations season, England won comfortably against Scotland at Murrayfield, with one headline declaring, "Boobbyer tears up Scots". The England-Ireland match at Twickenham was played in atrocious conditions in the snow, England winning 3-0 with Boobbyer the only scorer. The last game, against France in Paris, was a scrappy match, England winning 6-3.
At the end of the 1951-52 season, Boobbyer was in the Oxford side on a tour of Japan. But when the tour ended, he elected to stay in Japan to join Moral Re-Armament in their work of postwar reconciliation. Boobbyer had encountered MRA, founded by the American Lutheran minister Frank Buchman, at Oxford.
He joined a number of other sportsmen who were attracted to Buchman's work, including the former England rugby captain Peter Howard, Conrad Hunte, the West Indies opening batsman, Dickie Dodds, the Essex cricketer, and Bunny Austin, one of the world's leading tennis players.
Boobbyer's work with MRA took him to the Philippines, India and America where he married Juliet Rodd, daughter of Lord Rennell of Rodd, in 1957. Boobbyer never lost his love of sport. "The ball hitting the right part of the bat on a green field, freshly mown, and blackbirds singing, is a good picture of heaven!" he wrote.
He is survived by his wife and two sons.
Brian Boobbyer, sportsman and religious campaigner, was born on February 25, 1928. He died on January 17, 2011, aged 82
First published in The Times on 15 February 2011