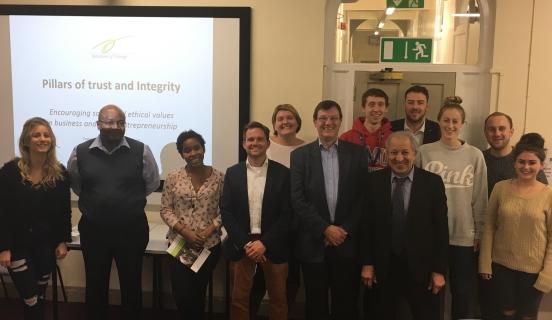 Mike Smith and Christiaan Groen (centre) with mature students at Manchester Metropolitan University and their lecturer, Kelly Elshafey
When Nathalie Ormrod from Manchester Metropolitan University (MMU) attended a TIGERoadshow—a day's event on Trust and Integrity in the Global Economy—at Liverpool Hope University, back in 2013, it was, she says, 'a turning point' for her: a light bulb moment. Ormrod, who is a Senior Lecturer in Marketing in the Department of Business and Management, said she realised, there and then, that she needed to introduce the issue of ethical decision-making in business into her lectures.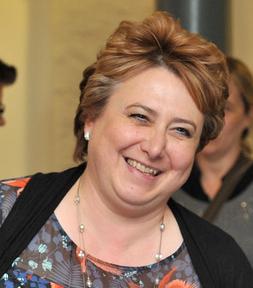 Last May, she invited the TIGERoadshow team to deliver a programme at Manchester Met's Crewe campus in Cheshire. Then, on 22 November, she asked Michael Smith, Head of Business Programmes for Initiatives of Change (IofC) UK, and Christiaan Groen, representing IofC in The Netherlands, to deliver talks on business ethics to three lecture classes. They spoke to second-year students in Responsible and Ethical Organisations, mature students in Marketing Communications Strategy, and first-year students from the 'Business World' unit.
Smith and Groen showed a short film, shot at the TIGE conferences in Caux, Switzerland, to each of the classes. They posed the question, 'What is the purpose of business?' One or two replied that it was to make a profit. Others said that it was to meet market needs as well as serve communities. The discussion quickly moved on to the social role of business, beyond shareholder value, in providing goods, services and employment towards an economy for the common good of humankind.
Smith asked each of the classes, 'What do you understand by the word integrity?', followed by the question, 'Where does integrity begin?' Responses included 'honesty' as well as making a stand when things are difficult, which might be costly for the individual. Some thought that integrity began 'at the top'; others that it began with each person individually.
Smith and Groen presented case stories of best practice in business, drawn from the 10 years of annual TIGE conferences in the Swiss Alpine village of Caux. They included stories of business people standing against corruption, social entrepreneurship, whistleblowing, environmental practice and ethics in banking. The stories made a link between personal transformation in business leadership and organizational and societal transformation.
Smith said that it was a privilege to meet and talk with the students 'because you are the people who will change the world in your lifetimes. But that will depend on the values that you live by and take into your careers.' At the end of each lecture Smith talked about 'inner reflection' as a source of strength for courage and ethical values in decision-making. He gave each of the students a study sheet for them to take away for their personal reflection.
Thanking Smith and Groen, Nathalie Ormrod issued an invitation for the TIGE team to return again next year.