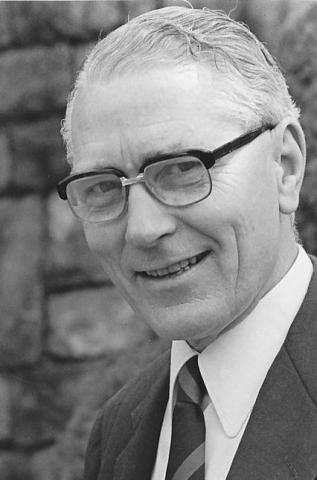 David Hind, who became joint Managing Director of Hawthornes printers and stationers in Nottingham, was an adventurer with a great empathy for people.
This was thanks to his Christian upbringing as a Methodist, strengthened by his commitment to the Moral Re-Armament (MRA) movement, after the opening of its international centre in Caux, Switzerland, in 1946. This would lead Hind to travel in south Asia and several sub-Saharan African countries.
Born in Banbury, Oxfordshire, on 21 October 1919, David Anstey Hind was the son of Henry Hind, a marketer for Colman's Mustard, and Alice (nee Anstey). He was the second of four siblings, including an older sister and two brothers. Their maternal grandfather, Rear Admiral Anstey, had been the Chief Naval Engineer in Hong Kong dockyard, 1900 to 1904.
David was educated at Nottingham High School for Boys. He was a keen sportsman and was capped three times for the First XV rugby team. He played rugby for Midland county schools in 1936.
He joined Hawthornes as a sales representative in 1937, at the age of 18, and doubled the turnover for Nottingham and District in his first year. The company's founder, Tom Hawthorne, introduced him to the ideas of The Oxford Group, the Christian movement that was the forerunner of MRA.
In 1940, during World War II, Hind was commissioned into the Royal Artillery. He was posted to Shetland as Troup Commander in the Light Anti-aircraft Unit. He was transferred to India in 1944, joining the 13th Battalion of the Sherwood Foresters, a jungle warfare training battalion near Ranchi. He was promoted to Captain and Adjutant of the regiment. He moved to Agra where he commanded a company till his demobilization in 1946.
Following six years of war, Hind was searching for his role in rebuilding peace. He found it through the Caux centre, where many former enemies were meeting in a spirit of reconciliation and forgiveness. He decided to volunteer to work full-time with MRA.
This took him, in 1947, to Richmond, Virginia, and California. The following years he was in France, Belgium, The Netherlands and the Ruhr, the heartland of German's heavy industry.
In the summer of 1952, he and a colleague, Alec Porter, set out to meet the communist trade union leaders of the General Confederation of Labour (CGT) across France.
It was the height of the Cold War and the struggle for the soul of Western Europe, after Eastern Europe had come under Soviet domination. Communism was described by an Italian author as "darkness at noon". In contrast, another Italian, attending Caux, described MRA as "sunrise at midnight".
Hind and Porter travelled through the northern industrial region of France, to the mining town of Lons and to meet aircraft workers in Toulouse as well as dock workers in Marsailles. They even went to Monte Carlo to meet the croupiers. They received a warm welcome from the union leaders in Paris, but not in Bordeaux where they were seen as an ideological threat and were told in no uncertain terms to leave.
Porter was later to recall: "For David it was a high adventure. He enjoyed every minute of it, reaching out to new people. He was great at making new friends and welcoming the challenge posed by these men, who sounded so convinced of their ideology. David led from the front, yet he included us all."
From 1952, Hind travelled with MRA to India, Ceylon (Sri Lanka), Pakistan and Thailand. From Asia he went to African countries—Sudan, Ethiopia, Kenya and Uganda—with his colleague Jim Baynard-Smith.
They took to Sudan the first copies of an all-African colour feature film, Freedom, shot in Nigeria. It depicted the struggle for independence from colonial rule and the changes of attitude needed to build trust. The Sudanese government bought three copies for use with its mobile film unit.
They were the guest of the Mahdi family in Khartoum, the Sudanese capital. Their friend Sayed Ahmed el Mahdi was an Imam and spiritual leader for millions of Sudanese, and the son of the founding father of independent Sudan.
Hind also made a friend of Buth Diu, a Cabinet Minister from southern Sudan. Hind knew that Buth Diu took a dim view of the British and the Arab northerners. In his early life had had a lowly job with the British District Commissioner which included cleaning his shoes.
The Sudanese Prime Minister sent Buth Diu, with Hind, to Caux in Switzerland. They shared a room and, to Buth Diu's amazement, on the first morning Hind cleaned the Minister's shoes. It was the sort of care that helped to heal his hatred and set him on a course of statesmanship to bridge bitter North-South divides in Sudan.
Baynard-Smith later commented that David gave "servant leadership". He would always be thankful for Hind's "inner peace and poise, that deep, calm authoritative voice and chuckle… which would discern and defuse any perceived tension or anger in people we met."
In 1959, Hind returned home to be with his mother in Nottingham following his father's death. He re-joined Hawthornes, adding safes and fire safes to its office furniture division, and became joint Managing Director with Richard Hawthorne.
In 1970 he was invited back to India by Rajmohan Gandhi, Chief Editor of Himmat newsweekly in Bombay, where he worked for three years raising advertising revenue for the paper.
Returning to England, he married Gail Pearson, a fellow MRA worker, in 1975. They lived in Wimbledon and that year he became a director of Grosvenor Books, in charge of marketing. They called on bookshops across South Asia and 100 bookshops in New Zealand and Australia.
David and Gail settled in Redditch in 1988. There they befriended Chinese and Taiwanese students at Birmingham University, encouraging them to listen to the "inner voice" of conscience and direction in life. This led to their four visits to China, Hong Kong and Taiwan. Their incidental expenses were sometimes covered by his love of buying and selling antiques. 
Towards the end of his life, David Hind suffered from heart disease and chronic liver disease. He died at home in Redditch, aged 89, on 31 May 2008.
He is survived by Gail, three nieces and two nephews.
This obituary was written July 2020 when Gail Hind shared tributes first given at David's funeral.