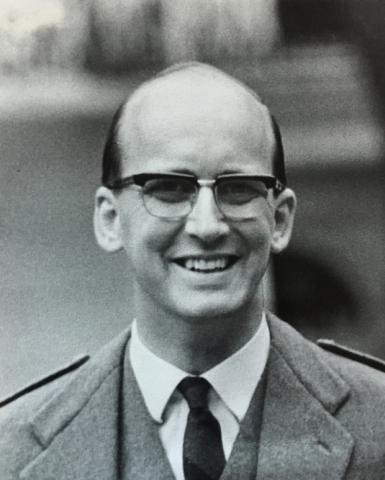 David Howden Hume of Helen's Bay, County Down, who has died in Glasgow aged 87, was a great-great nephew of the founder of the international engineering company, Howden, which owned the Belfast Sirocco Works. As a young man he played polo and drove tanks in the Libyan Desert during his National Service in the Cavalry Regiment of the British Army. He became perhaps one of the unlikeliest participants in the peace process in Northern Ireland.
Born into a prosperous Dumbartonshire family, on 17 May 1932, he lived an idyllic childhood, attending Ardvreck Preparatory School in Crieff and then Loretto College, Musselburgh. He became an excellent yachtsman and, in his early 20s, was living a carefree existence of horse-riding, hunting, shooting and fishing.
David worked briefly in the family firm, Howden, but found that it was not for him.
Instead, his life was turned around after he encountered Moral Re-Armament (MRA, now renamed Initiatives of Change) when he was in his mid-20s.
The international, ecumenical and interfaith movement was committed to building peace, reconciliation and a change of heart, following World War II. This work took him to various countries including South Africa where MRA put on plays challenging Apartheid.
He met his future wife, Ruth Hannon, while working with MRA in London. Ruth was born in N Ireland, the daughter of Archdeacon Gordon Hannon and Hilda (nee) Denny who came from a Scottish shipbuilding family background. When Ruth was giving a talk at a meeting in London, David said to himself, "This is the woman I am going to marry." Within two weeks they were engaged and married six months later in 1971. 
Their commitment to peace and reconciliation led them, with their baby daughter Frances, to Northern Ireland in 1977, where Ruth had grown up. They lived in Helen's Bay near Bangor.
Both active members of the Church of Ireland, David and Ruth worked with a small group of people from the Moral Re-Armament movement who perceived that the fundamental issue was the unhealed relationship between Britain and Ireland.
This group took part in weekly Bible studies at Clonard Monastery in the heart of nationalist West Belfast. Fr Alec Reid from the monastery led an initiative that resulted in a breakthrough in the peace process in the late 1980s and 90s. Fr Reid believed that the only way to change things was through dialogue, leaving room for the Holy Spirit to do its work in human history.
Fr Gerry Reynolds who led the Bible Study also followed that principle. David edited books and pamphlets on the experiences of some of those attending the Clonard Bible Study for an Irish colleague and helped to post these onto an archive website of the University of Ulster recording the history of the last traumatic 50 years of Anglo-Irish relations.
A mass was said in David's name in the monastery after his death.
All this also strengthened his love of history and politics. In his 50s he gained a degree in history through the Open University and went on to study for his Masters. His thesis looked at the Empire Day Movement (now Commonwealth Day) following the death of Queen Victoria, and its effects on Ireland. He delighted in the opening of the Scottish Parliament, believing in the positive effects of self-governance for Scots and Irish, and was a member of the Scottish Nationalist Party.
Above all, he was a friend to a wide range of young and old alike, who benefitted from his gentle wisdom and practical help and support.
His daughter, Frances, who is the National Development Officer at Interfaith Scotland, remembers that "he had a heart for people and helping them on their course in life. He always saw the humour of a situation and could disarm any stuffiness and pretention with his quick wit, nudging us and encouraging us not to take ourselves too seriously." 
Ruth predeceased him by two years and he is survived by his daughter Frances.
His late brother, Douglas, was Managing Director of the Howden family company which, in addition to owning the Sirocco factory in Belfast, had facilities stretching across the world. David wrote The Howden Heritage, the definitive history of the family firm.
He died on 13 September 2019.
First published in the Belfast Telegraph on 15 October 2019. A similar obituary appeared in The Herald, Glasgow, on 21 October.