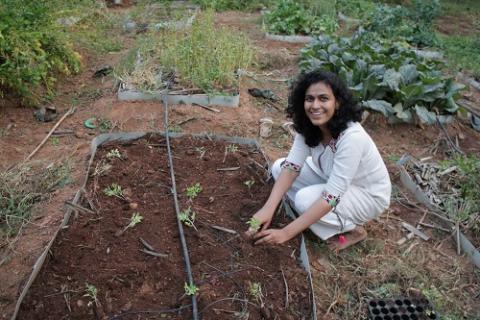 A multi-award-winning grassroots movement in India has empowered 10,000 small-scale farmers. Taru Naturals has helped farmers to connect their traditional, organic products to their markets, including leading restaurants, at a time when the Covid pandemic has disrupted supply chains, and when climate change has caused havoc to traditional crops and ways of working.
'We envision to safeguard sustainable rural livelihoods and double small-scale farmer incomes,' said Taru's CEO and co-founder Ruchi Jain.
She was speaking to an online webinar, entitled Entrepreneurship for Healthy Food and Regenerative Agriculture, organized by Initiatives of Change in Business and the Economy on 12 November.
Jain was among the award winners of the GQ50 Most Influential Young Indians in 2019. She also received the Conde Nast 'Homegrown brand of the year' award that year. This year she was among the 50 UN Best Good Food award winners at the UN Food Summit.
Jain has connected the farmers in Business2Business and Business2Customer links, including 70 of India's leading restaurants, such as Kitchen Garden, Bombay Canteen and the Taj Palace Hotel in Mumbai.
Taru—the word means tree in Sanskrit—operates in six Indian states: Assam, Maharashtra, Jammu & Kashmir, Kerala, Karnataka and Uttarakhand. Tarus' vision statement is to encourage 'sustainable livelihoods for tribal communities and small farmers'. It works with farming communities 'to provide holistic natural farming training, post-harvest technology and quality control.'
In Assam, farmer Upendra Rabha has seen his black rice cultivation grow by 108 per cent in the last 10 years. In Karnataka, Suresh Desai, a jaggery powder farmer, is a founder member of an organic farmers' club of 400 members who have seen their crop output grow by 174 per cent. Some farmers have been able to grow five crops instead of one per year. Others have grown mango trees in an agro-forestry experiment.
Tara-packaged products include pancake, red rice dosa, idli and buckwheat pancake mixes, premium flours, jaggery powder as a sugar substitute, and a range of teas.
A Farm-to-Table Relief Fund purchases food kits directly from small farmers and distributes them to at-risk communities, such as migrant labourers and slum dwellers in Mumbai. A single kit costing Rupees 650 (€7.8 - £6.5 - $8.7) can feed a family of four for two weeks. The relief fund has procured 126 tons of products.
But with over a billion Indians dependent on the country's agricultural economy, the big challenge is how to scale up Taru to have a national impact. Ruchi Jain said that farmers impacted by Taru have since become ambassadors for Taru, as trainers for other farmers. She saw the Gujarat-based Amul Dairy Cooperative, jointly owned by 3.6 million milk producers, as an example to follow. Along with the UN recognition came the fact that the government was starting to pay attention to the experience.
Another challenge, she said, was how to encourage young Indians, who lose interest in agriculture and want to migrate to the big cities, to 'give them the experience of village farming' and to help them to see its relevance.