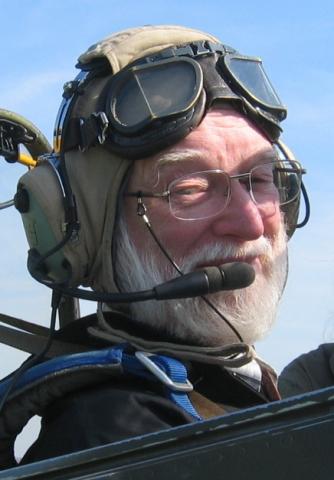 Architect, inventor, pilot and poet, C. Erik Andren was a polymath, an original thinker whose inquisitive mind was interested in everything from physics to psychology. Born in Batu Gaja, Malaysia on 24 March 1938, Erik's childhood was thrown into confusion by a congenital heart condition, and World War II.
At twelve, in 1950, he was the 12th ever open heart surgery patient in the UK, at Guy's Hospital in London. As a result of these circumstances, Erik attended 14 schools on three continents, showing great intelligence despite coping with dyslexia. He studied Architecture at Kingston-Upon-Thames and went on to design airline facilities at Heathrow; in Benghazi, Libya; Rome and Geneva; as well as housing in Britain. His lateral thinking also led to inventions, including a home printing solution and concepts for producing an affordable river-based hydro-electric system. 
Erik's interest in people led him to design and write a 'Changing Course', in response to the collapse of Soviet Communism in Eastern Europe in the early 1990s. Aimed at aspiring politicians and young professionals, particularly in former communist countries, the Changing Course provided the basis for the Foundations for Freedom (F4F) training programme of the Initiatives of Change movement, based in Caux, Switzerland. Changing Course and F4F highlight the concepts that underpin the moral and ethical foundations for democratic societies from first principles to issues of personal integrity, and ethical and moral behaviour; drawing on the sources of inner introspection that lead to inspired action.
Despite his own strong Christian beliefs, Erik was fully aware that others may have no religious affiliations and so focused on the need for each participant to spend time in personal "R&D" - research and development, reflection and decision-making, and from this draw their own conclusions.
Operating initially from London and then from Kiev, Ukraine, Foundations for Freedom, with Erik's thoughts at its heart, has delivered 70 courses to over 1,500 young leaders in 15 central and Eastern European countries as well as South Africa, India, Canada and Australia. Erik delivered the majority of the initial courses, and ensured that others with similar passion were trained to continue delivery as his health and other commitments began making foreign travel more difficult.
One young participant, a music teacher from Romania, wrote: "I didn't know any more what was right and what was wrong and what I was supposed to do. My main values had become money and survival. I found myself unhappy, stressed and very bitter… Now I feel the only thing I really want to do is to give to others the chance that I was given to experience a deep change in life and a new purpose."
An unexpected outcome of the F4F courses was the use of Erik's training manual in a similar Moral Foundations for Democracy programme in Sierra Leone, aimed at reintegrating former combatants following the West African country's civil war.
Erik was a warm-hearted extrovert, a man of passionate conviction, and a poet who wrote on a broad range of subjects, from his children to philosophy. One of his poems, Not the Bitter Men about Northern Ireland, was read out in the Westminster parliament.
A surreptitious romantic, he married Scottish medical practitioner Sheila Davidson, after proposing to her on their first meeting following years apart. They were an ideal match sharing their lives and home with many people for almost 40 years. He described Sheila as the string to his kite. They raised their children, Lindy and Ross, in Staines, Middlesex and moved to Fowlmere, South Cambridgeshire, when Sheila retired. Here he was able to re-ignite his lifelong passion for flying by joining the local gliding club, as well as using his architectural skills to redesign their new home.
Erik died peacefully from heart failure in Papworth Hospital, Cambridge, on 4 September 2008, aged 70. He is survived by his wife and two adult children. He is remembered fondly for his quick laugh, his "twinkle", and his passion for sharing life's deeper concepts with any who would join his conversation.
Following his death, Sheila, Lindy and Ross edited and published an anthology of his poems entitled Trickledown (2019).