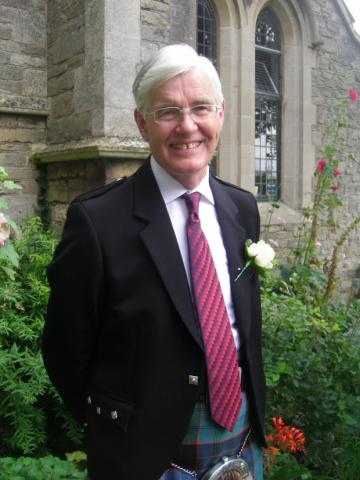 Film distributor who played bagpipes on the top of Mount Kilimanjaro
Geoffrey Craig endured a river torrent in Papua New Guinea, played the bagpipes on the top of Mount Kilimanjaro, and scaled a sea cliff in Skye.
He was the third of five siblings whose father was John Craig, Secretary to the board of Colvilles Ltd, the Motherwell iron and steel company that was to become, under nationalisation, part of the British Steel Corporation. Their grandfather was Sir John Craig, Chairman of Colvilles Ltd and the Governor of the Bank of Scotland, 1955-57.
Geoffrey William Craig was born in Glasgow on 16 December 1944. His mother, Agnes, was the younger daughter of Sir William and Lady Marshall of Uddingston, South Lanarkshire. Geoffrey, who was educated at Gordonstoun School, might have followed his father's footsteps into the steel industry, especially as he gained his degree in metallurgy at Strathclyde University, and completed his Masters at Imperial College in London.
Instead, he felt God's call to work with the Christian charity the Oxford Group and its campaigns for 'moral and spiritual rearmament' (MRA), now known as Initiatives of Change (IofC). It would be an adventure of faith, without any guaranteed income, that eminently suited his quiet and diligent spirit of service to individuals. This took him from Kenya and Ethiopia to Papua New Guinea, where he spent four years, to the Philippines and Hong Kong, for eighteen months, and to Japan for four and half years, staying long enough in each country to make life-long friendships.  
He worked initially with the group's film production and distrubition unit in London. This took him to Papua New Guinea in 1970, as the country approached independence from Australian administration in 1975. He oversaw the dubbing of an African feature film Freedom, about conflict resolution in the struggle for independence, into Pidgin. It was the first feature film dubbed into the language. On its completion, he and colleagues toured villages by canoe and jeep to give open-air showings using a portable generator, a Bell & Howell projector, and a bed-sheet strung between trees as a screen.
Craig's 'unruffability', as a colleague put it, was exemplified when their jeep was marooned in a raging river torrent. His wry humour was reflected in his account of the incident: 'While we were sitting there wondering how to get to safety and find help to pull it out, there was an earthquake as well.'
He married a fellow worker, Veronica Phelps from Portsmouth, in 1975. They travelled in 1978 to the Philippines to work there for nearly a year, living with his father who had been contracted by the World Bank to work with the Development Bank of the Philippines.
They went on to Hong Kong before returning to Britain in 1978. A son, Philip, was born in Glasgow in 1981, and their second son, Richard, in Cheshire in 1984.
They travelled to Japan in April 1982 for the first of two visits there, totalling four and half years. With their young boys, they helped to host the group's residence in Tokyo, learning Japanese and working to build relationships of trust between Japan and Korea, where Craig visited six times.
Wherever Craig travelled he took his bagpipes, which he played on top of Mount Fuji; on a 4,000-foot high plateau in the Western Ghats of India; and on top of Mount Kilimanjaro in Tanzania, where he had briefly been an instructor at an Outward Bound school during his gap year between universities.
He and Veronica returned from Japan to Britain in 1986. They lived in London where he continued to work with the documentary film unit.
Craig was Assistant Secretary and then Secretary of the Oxford Group from 2001 to 2005, facilitating meetings of the board of trustees. He was largely responsible for overseeing the move of the charity's headquarters in London, in 2000.
The task involved working closely with the architect and builders in renovating the new centre. He hosted an event for the blessing of the new building by the then Bishop of London, Richard Chartres, with a representative of Westminster Cathedral and a senior Rabbi in attendance.
Geoffrey and Veronica retired to Liberton in Edinburgh in 2008 where he became an adviser at the Citizens Advice Bureau.
He was also the Convenor of IofC's Panel of Elders from 2010 to 2014, giving pastoral oversight to teams around the world. It was typical of his calm and selfless spirit of service in taking on both roles.
He was delighted to return to the country of his birth where he had, in his youth, been a keen mountaineer. His younger brother, Paul, recalls their climb up Bla Bheinn in the Cuillin ridge of Skye and scaling a sea cliff near the crofting village of Tarskavaig in the south-west of Skye.  
Geoffrey, who suffered from cancer, died in the Marie Curie hospice in Edinburgh on 17 March 2018. People from as far as Australia and Japan attended his memorial service at Liberton Kirk on 6 April. His older brother, Rev Anthony Craig, quoting their brother-in-law, said that Geoffrey's 'calm acceptance, deep faith and great fortitute were outstanding examples to us all.'
His son, Philip, remembered his father as 'a man of integrity'. He added: 'I have a clear memory, when I was about 12, of suddenly feeling very proud that he was my father. He had a depth of conviction and clarity about what it means to live rightly.'
He is survived by his wife, Veronica, their two sons and three grandchildren.
Geoffrey Craig, film distributor and Christian campaigner. Born: 16 December 1944 in Glasgow. Died: 17 March 2018 in Edinburgh, aged 73
This obituary was first published in The Scotsman, 16 April 2018
Photo by Anne Craig