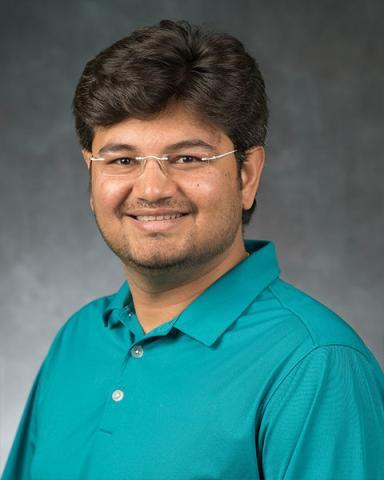 How to deal with fear, to achieve sustainability in professional and personal life, was the theme of a webinar hosted by Initiatives of Change in Business and the Economy (ICBE) on 14 June. The keynote speaker was Dr Arpan Yagnik, Associate Professor at Penn State University, speaking from his home city of Ahmedabad in Gujarat.
Dr Yagnik told about the time he gave a talk at Harvard University in front of professors, his parents, friends and family. He found his personal fear was debilitating, so he faced the blackboard to give his talk about defeating fear, leading to creativity. "It was the most well-received talk I have given," he said. "We cannot entirely eliminate fear, but we can defeat it in the moment."
Among his many experiences with fear as a child, he had had an irrational fear of putting his head under water "in case a shark got me". To fight it, he decided to jump into the pool from a springboard and made sure a lifeguard was watching. But after standing there for 15 minutes he abandoned the attempt. "Fear acts on us in many different ways," he said. "Real, powerful, debilitating. With fear there is hardly any freedom."
"How does fear play a part in strategic decision making in business?" he asked. "In business there is always risk when other people are involved." They may include employees, customers, suppliers and the community. There are appeals to fear in advertising and in politics.
Ample time was granted to the participants to reminisce on their own experience of fear in business or non-business situations.
Northern Irish businessman Peter Brew highlighted three: "First, many business organisations are run like dictatorships where bad news is unacceptable, and fear of being the bearer of bad news will often inhibit responsible practice. Second, I have met many bullies in my life, and third I grew up in Northern Ireland and experienced the troubles from 1968 on as a young man with a young family. It has been my instinct that when such situations arise, you must face up to them. I was among those who set up the Alliance Party which tried to bridge the gap between the communities. In business I tried to stand up against the bullies, because the one thing a bully cannot accept is someone standing up to them."
Other lively contributions followed.
In response Dr Yagnik reminded the participants that fear can be both a motivator and an inhibitor, more often the latter. Fear binds and blinds. One of CEOs' fears is to be isolated, alone at the top. There is frequently a fear of failure, but also a fear of success, which when achieved poses the question of "What next?" In business, decisions must be taken in volatile, uncertain and complex contexts, without the full knowledge of the facts. Serial entrepreneurs have this rule of thumb: fail fast and fail often—and move on.
To characterize the need to go through the fear barrier, Dr Yagnik asked the question: was fear a "guest" in our lives or were we a "host" to fear? We needed to decide whether it would be a permanent factor in our lives, dictating our behaviour or restricting our progress in life, or a temporary visitor which could be shown the way out. However, defeating fear does not imply eliminating it. Absolute fearlessness is an ideal state which, like a vacuum, even if it were achieved, would not be sustainable.
He concluded that fear is a game changer and a game twister, sometimes subtle, more often brutal. There was, however, one circumstance when there is absolutely no fear in a person's life: when they are laughing out loud!
How we deal with fear remains an individual journey; this and other statements resonated with the participants when they split into small discussion groups. Participants found the ideas applicable at both personal and professional levels. They mentioned current global fears: political fear (dictatorship taking over from democracy), economic fear (losing markets, being caught in a merger, being made redundant….), climate-related and conflict-related fears.
Dr Yagnik saw Initiatives of Change as a movement that helps people to overcome fear. Time for quiet reflection could be a way to explore our fears and learn what to do with them, and an opportunity to decide whether to make them hosts or guests.
Thanking Dr Yagnik for the rich and lively dialogue, Antoine Jaulmes reminded the participants about the summer sessions at the IofC centre in Caux, Switzerland: the Impact of Business on Democracy workshop on 25 July and the joint ICBE-Caux Round Table session on 26 and 27 July.