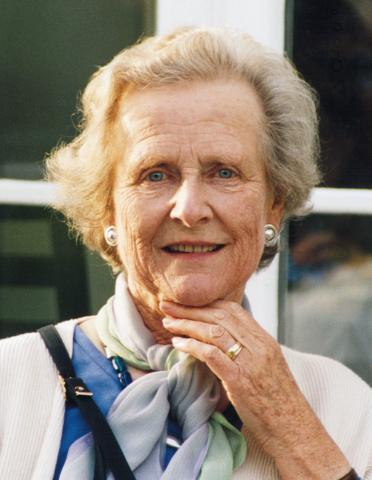 Juliet Boobbyer was a woman of deep personal faith, who believed that the Christian history of Britain could be a resource for building bridges between the nations of the United Kingdom and also with Ireland.
Her play with music, Columba, told the story of the sixth century Irish abbot and saint, who founded the abbey on the island of Iona which became a centre of faith and learning for the whole of Europe.
Co-written with Joanna Sciortino, with music by Irish composer Elaine Gordon, it premiered at the Netherbow Theatre, the Church of Scotland Arts Centre, in Edinburgh, as part of the Edinburgh Fringe in 1978. It was staged by the Adamnan Players with a revolving cast and, over the next couple of years, toured Scotland from Alloway, birthplace of Robert Burns, to Orkney, and was also performed in England and Wales. It was staged at the Westminster Cathedral conference centre in London. The playscript was published by Fowler Wright Books in 1981.
Juliet Honor Rodd was born in London on 28 October 1930. She was the second of four daughters of explorer and banker Francis Rodd who was from 1941 the Lord Rennell of Rodd. He was head of AMGOT (Allied Military Government of Occupied Territories) in 1943.
In 1938, the family bought and renovated Rodd Court, a Jacobian manor at Presteigne in the Hindwell Valley, on the border of Herefordshire and Radnorshire. Rodd Hurst parish dates back to the Doomsday Book, and the Rodd family gained its name from the parish.
In 1940, Juliet and her sisters were evacuated with their mother, the artist Mary Rodd (neé Smith), to the USA. Mary, a granddaughter of Lord and Lady Antrim, had trained at the Slade School of Art in London.
The girls went to school at Friends' Academy on Long Island. In 1943 it was considered safe enough for them to return to England, though a ship in their convey was sunk by a German U-boat. Returning to live at Rodd Court, the girls would ride their horses around the countryside.
Juliet went to Westonbirt School in Tetbury, Gloucestershire. She excelled academically and was offered a place to read zoology at Oxford.
However, by then their mother Mary had encountered the 1930s Christian movement the Oxford Group, which its founder, Frank Buchman, relaunched in 1938 as a campaign for "moral and spiritual rearmament" (MRA). His aim was to counter the threat of military rearmament posed by Hitler.
Juliet felt called to work with the movement, including its post-war work of reconciliation at its international centre in Caux, Switzerland, which opened in 1946.
Juliet turned down her place at Oxford to join this endeavour, much to the consternation of her father, though he was later reconciled to her decision.
The work took her to many countries, including back to the USA, where she married her co-worker, the former England rugby international Brian Boobbyer, in 1957.
The couple spent some years in Asia, particularly in India where they worked closely with Rajmohan Gandhi, a grandson of Mahatma Gandhi. In Japan and the Philippines, their major focus was on peacebuilding between the former enemies.
Juliet's interest in the arts grew through her work with MRA, which aimed to promote reconciliation through musical theatre. Its international travelling shows, including The Vanishing Island (1955-1956) and Space is So Startling (1962-63), depicted how the bitterness and hatred of the Cold War might be addressed. Juliet worked on the costumes for these shows. She learned that the arts had a role to play in building bridges: faith and spirituality could enable people to change at a deep motivational level and contribute towards reconciliation.
In 1962, they returned to England and based in Oxford. Over the next three decades, they offered hospitality, friendship and a listening ear to students and visitors from all over the world, including Aung San Suu Kyi of Burma. A Japanese student who visited them is now Emperor Naruhito.
Juliet co-wrote, with Ailsa Hamilton, a multimedia production Crossroad (1973), about the life of Frank Buchman, which was staged at the erstwhile Westminster Theatre and turned into a film the following year.
As Brian's health began to fade in the early 1990s, they moved to Little Rodd, which Juliet had inherited in 1982, next door to Rodd Court. For her it was like coming home and she threw herself into life in the locality.
She was instrumental in the restoration of the historic Church of St Mary, Pilleth, on the site of a 1402 battle between the Welsh and the English. A project to re-roof the church was part-funded by the Heritage Lottery Fund, on condition that the parish raise a quarter of the sum: £80,000. Juliet and a team of friends set about this task with alacrity. She saw the project as a way of preserving the rich Christian heritage of Wales and England.
Juliet was also an artist as well as a writer. She painted a triptych for Pilleth Church and contributed to a number of local exhibitions.
After Brian's death in 2011, she visited her sister Rachel in Australia and her son Mark in South Africa where he and his wife Cathy ran a boarding school. Back in Presteigne, towards the end of her life, she loved to read and recite from the Psalms and poems such The Rolling English Road and The Donkey by G K Chesterton, and The Lake Isle of Innisfree by W B Yeats.
She died in Kington, Herefordshire, on 24 January 2023 aged 92, and is survived by her two sons, Philip, a historian at the University of Kent, and Mark, warden of St Columba's College, Dublin, and by five grandchildren.
First published in The Scotsman, Edinburgh, 24 February 2023.
https://www.scotsman.com/news/people/obituaries-juliet-boobbyer-artist-w...