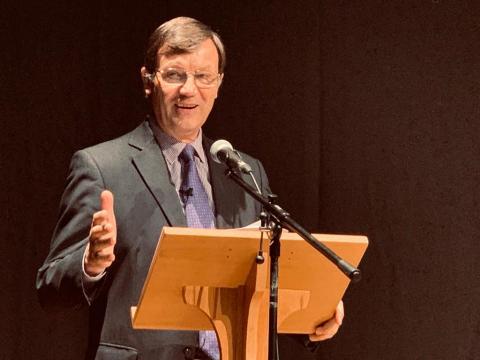 India, like countries around the world, has suffered appallingly from the Coronavirus pandemic, though India seems to have contained the disease through drastic lockdowns. While many people have lost loved ones, the pandemic has also brought out the best in human nature—a spirit of empathy and compassion.
Empathy, says Bill Drayton, founder of Ashoka, the global social enterprise network, is the number one quality of good business leadership. He told me this in an interview with him for The Guardian newspaper several years ago. He meant empathy for all stakeholders—employees, customers, suppliers, owners and the wider community. And now empathy and compassion are all the more needed during the pandemic.
The Mumbai businessman Vivek Asrani, Managing Director of Kaymo Fasteners, a family business specialising in industrial staplers, demonstrates empathy in action. Kaymo is India's market leader in their niche products.
Asrani tells how, recently, a competitor approached him to ask if he could supply them with a vital component so that the competitor company could keep going during the lockdown. The raw material had been unduly delayed due to logistical problems. Asrani might have been only too pleased to see his competitor go out of business. Instead, he responded generously and supplied his competitor with the material he needed "at almost cost price" to help keep their factory going and "protect the interest of their workers", some 15 to 20 employees, and their families.
Empathy, however, does not protect you from tough decision-making in business. Recently, Asrani had to lay off 20 workers, a fifth of their staff, in order to save the whole company from closure. The remaining employees offered to take a cut in their wages to protect the future of the company. After reflection on their offer, Asrani declined, aware of the need to support the families of his employees during the difficult times of the pandemic.
Drayton and Asrani feature in my new book Leading with Integrity which was published by Routledge, the academic publishing house, in a special Indian edition last January. I wrote the book before the pandemic. So it focuses on other aspects of Asrani's story, including his integrity, personally and professionally, and his stance against corruption.
The book includes stories of other business leaders in the private sector, including Suresh and Mala Vazirani, founders of Transasia Biomedicals; Rajendra Gandhi, founder of India's leading rubber recycling company; the Jamshedpur surgeon Dr Amit Mukherjee, who with his colleagues saved the Tinplate Company of India company hospital from closure; and others associated with the international business conferences held at the Initiatives of Change centre in Panchgani. Vazirani's company has tested more than 10 million people for the Covid-19 virus.
They are all outstanding people of integrity who have successfully resisted the temptation to bribery and corruption. They see this not just as preserving the reputation of their companies but also the reputation of India..
They are also people who draw on the inspiration which comes from silent reflection and listening to what Mahatma Gandhi called the Inner Voice. A concluding chapter in my book focusses on this aspect of good business leadership: taking time out for self-reflection in one's personal life and at the workplace level.
Such experience is not limited to the spiritual traditions of India. Many companies, including the big tech giants in Silicon Valley, allow space in their working weeks for employees to take time out for meditation and reflection, and provide the facilities to do so. Professor Ian Mitroff, author of the book A Spiritual Audit of Corporate America, writes that "spirituality could be the ultimate competitive advantage." There are, no doubt, many thousands of business leaders around the world who are inspired by an intuition as to what is the right thing to do.
A North of England businessman, who prefers to remain anonymous, tells how he takes time for silent reflection, often whilst out in nature, to get "in flow, like a raft carried downstream", as he puts it. It attunes him to the unexpected during the day. In the last 20 years, seen through what he calls "the eye of faith", it has led his business to new technologies and market sectors, to a revived sense of purpose, and very often, he says, to conversations with particular people.
One day, he was about to chair an important board meeting when a somewhat garrulous employee approached him, asking for a private word. His immediate reaction was not now, it wasn't convenient. But somehow the spirit of being in flow prompted him to stop and take time with the employee.
This man said that his twin brother, himself a former employee in the business, was dying. The business leader was glad that he had stopped to talk with his employee. He arrived, nonetheless, exactly on time for the board meeting. During the meeting, news came through that the man's brother had indeed died. The business leaders had the thought to make sure that the brother had heard this news and took time out from the board meeting to check. In fact he broke the news himself to the brother. "What really was the greater priority?" the business leader commented afterwards. "My 'important' board meeting? Or care for the employee?"
Asrani, likewise, takes time every morning, first thing, for prayer and silent reflection. At one point, prior to the pandemic, his uncle offered to sell him a plot of land outside Mumbai at a knockdown price. Asrani's inner voice prompted him to accept the offer, though he couldn't see why. He simply felt he shouldn't turn down his uncle's offer. He decided to build a single-storey warehouse on the land. Then a pharmaceutical company, seeing the new construction, asked Asrani if they could rent the building for five years, provided it was going to be a two-storey building. Asrani again felt his inner voice encouraging him to accept the pharma company's offer, even though it meant increasing his investment in the building.
Asrani couldn't possibly have anticipated all this when his uncle first offered to sell him the land. The income from the rental of the new building to the pharma company over the last three years is paying for the cost of Asrani's investment. His reliance on the inner voice has proved to be justified.
Some 60 case study stories of best practice appear in my book.. It includes a chapter on pillars of trust for a leadership of integrity—sustainability, purpose, stewardship, cooperation and, of course, integrity itself.
Routledge have now said that they have chosen it as one of six books they most want to promote across India. Their representative in Mumbai, Shailesh Kumar Shahi, says that if any organization wants to buy copies in bulk they can print a special edition with an appropriate forward added for that company.
Meanwhile the book is on sale in Asia Plateau, where I made it available at the business forum there last February.
This article first appeared in the October 2020 edition of  "iCB on Wings".