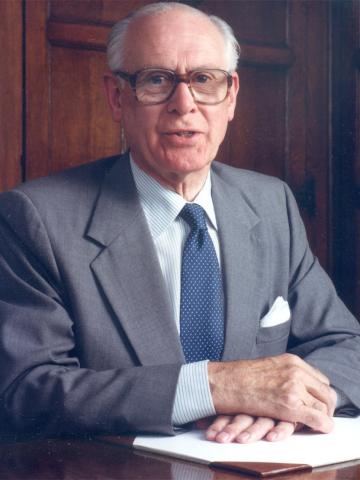 The oil businessman John Vickers had an abiding conviction that, as he said, "what is morally right is also economically viable". He was determined to put the needs of employees and customers before profits or returns to family shareholders. His business philosophy was put severely to the test yet proved durable during two oil price increases in the 1970s and 1980s, and in more recent recessions.
Vickers was managing director (1960-80) and chairman (1967-2000), of Benjn R Vickers & Sons Ltd, a lubricants manufacturing business founded by his great-grandfather in 1828. The company became a global leader in lubricants used for niche applications in the manufacture of textiles and in ships. Later, Vickers Oils, under Vickers' son, Peter, pioneered biodegradable marine oils, minimising their environmental impact.
In 1977 he was awarded Companion Membership of the Textile Institute. Noting that "lubricants are designed to reduce friction between warring surfaces", Vickers' vision was, in the words of a vice-chancellor of Leeds University, to "lubricate society as well as machines". In this he was influenced by his Methodist faith and his lifelong association with the Moral Re-Armament movement (MRA), with which he worked as a volunteer for over two decades after leaving Cambridge University.
It gave him a deeply held belief that business and industry should be a moral force in society. "Industry is the place where men of capital, management and labour can learn to work together… to put right what is wrong," he said. "We can produce profits. Some day this nation and the world would bless Yorkshire if we once again start to produce prophets." At the diamond jubilee conference of the Textile Institute in 1970 he said: "There is a price to pay – for management in putting people before profit, for employees in putting perfection before pay." Doing so would "release the floodwaters of creativity, quality, reliability and profitability that will be needed if we are to clothe and equip millions in every country."
His company saw sales double in the five years up to 1973, Vickers writing in his diary: "… little did we foresee the galloping increase in sales in the boom years, right up to the oil crisis of 1973." The bubble burst that autumn, when the oil-producing countries imposed a massive oil price increase of 400 per cent in three months. But, as Vickers recorded, "In truth the price paid to the Middle Eastern lands had been very low for a long time."
Vickers Oils issued a campaigning poster with the slogan "There is enough for everyone's need – but not enough for everyone's greed." The poster urged: "Walk when you can and use the bus; sacrifice home comforts."
His company lost 30 per cent of sales volume during the first oil crisis and would lose nearly 40 per cent during the second oil price shock of 1980-1982. Keeping faith with customers and employees throughout the difficulties, Vickers stuck with individual employees who had to be laid off until they found jobs elsewhere. During a road haulage drivers' strike, none were more surprised than the pickets outside his factory when the boss himself came out to give them coffee and Mars Bars. The strike leaders wrote to him afterwards, "If you ever need our help, contact us."
John Farrar Vickers was born in Leeds in 1914. Benjamin Britten was a year ahead of him at Gresham's boarding school in Norfolk, and Vickers remembered him playing the organ in the chapel for House prayers.
In his last year at school, a family friend lent him a copy of A J Russell's book For Sinners Only, about the Oxford Group, the forerunner of MRA. The following summer, 1933, he took part in an Oxford Group conference. He read for his MA in Economics at Christ's College, Cambridge, where he attended Keynes' lectures on full employment, and locked horns with his tutor, Reginald Northam, on whether or not the motivations of human nature could be changed.
On graduation he started work with the Oxford Group. Its founder, Frank Buchman, invited him and other Britons, including the tennis star Bunny Austin, to join him in the US just as war broke out. Supported by Senator Harry S Truman they engaged in a morale-building programme in US factories.
After the war, Vickers was a regular participant in MRA's annual industrial conferences at its centre in Caux, Switzerland. In 1947 he married Eleanor Bourdillon, the daughter of a diplomat. Living in the Netherlands and Switzerland in the 1950s, Vickers became a friend and colleague of industrialists like Frits Philips, head of the electronics firm, who took part in Vickers Oils' 150th anniversary celebrations in 1978. Vickers also became a trustee director of the Westminster Theatre in London, renowned for its Christian plays.
An avid Yorkshire cricket supporter, he attended matches into his nineties. On family holidays in Scotland he would visit fishermen to ask them if Vickers' oils were adequate for the safety of their boats. Vickers remained convinced that a person's character was molded by his everyday work and religious ideals and that the best in human nature could help shape a more just world.
John Vickers, businessman: born Leeds 9 November 1914; married 1947 Eleanor Bourdillon (two daughters, one son); died Leeds 21 September 2013.
First published in The Independent, 12 December 2013. ml