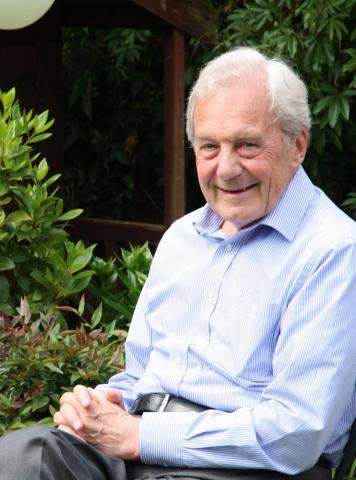 Michael Douglas Henderson, who has died aged 90, was a Christian broadcaster and author of books on forgiveness in personal and public life.
Martin Bell, the former BBC war correspondent, described Henderson's book No enemy to conquer—forgiveness in an unforgiving world (2009) as "a thoughtful guidebook to the troubled times we live in", while John Sentamu, former Archbishop of York, said: "Jesus Christ teaches us all about the power of forgiveness. Michael Henderson's book highlights that power in action."
Its UK launch was held at the St Ethelburga's Centre for Peace and Reconciliation in the City of London. Henderson pointed out the font there where he had been christened in the former Anglican church.
The book, commissioned by Baylor University Press, includes commentaries from Archbishop Desmond Tutu, the late Benazir Bhutto, Rajmohan Gandhi, a grandson of the Mahatma, and the late Chief Rabbi Dr Jonathan Sacks. The foreword is by the Dalai Lama.
A practicing Anglican, and a supporter of the secular Forgiveness Project, Henderson had a respectful approach to people of other beliefs. "Forgiveness," he said, "is one of the few concepts which, like love, are respected and encouraged by all the world's religions."
Henderson might have grown up Irish had it not been for the fate of his grandparents. What happened to them and his mother at the time of Ireland's independence in 1922 was to inspire his books.  
His ancestors had arrived in Ireland from Lancaster in 1670. They became part of the Protestant Ascendancy, the minority who, Henderson said, "dominated the Catholic majority". The family were landlords and for many generations served in the Royal Irish Constabulary.
Henderson's grandfather, Ben Tilly, serviced, like many Irish, in the British Army and was wounded in France during World War I. On Ireland's Independence Tilly was warned to leave the country by the end of the week or be shot. He did so. A family home was later burned to the ground.
Michael was born in London ten years later, on 15 March 1932. His mother, Erina, had met businessman Douglas Henderson in Ealing. 
Aged eight in 1940, Michael and his younger brother Gerald were evacuated to the USA for five years during World War II. Over a million British children were moved out of cities to safer places due to the threat of German invasion.
Michael and Gerald were put on a train to Greenock where they boarded a ship sailing to Boston. As they left London, Michael called out to his mother, somewhat precociously, "See you after the duration." This became the title of a book (2004) which tells the remarkable stories of the children sent abroad. It was published in America as A harvest of friendships. Despite separation from their parents, the two Henderson boys found it a great adventure.
He and Gerald lived with a family in a Boston suburb. When they returned to Britain in 1945, there were "certain stresses after being apart in these formative five years", he said. "It was hard for us to live into the lives of our parents who had endured years of bombing, fire-watching and the threat of V1 and V2 bombs."
To help re-establish family unity, they visited a centre for post-war reconciliation in Caux, Switzerland, in 1947, then run by the Moral Re-Armament (MRA) movement, which had opened the previous year. "As a 15-year-old I was persuaded to go when I heard that I could buy ice hockey skates four pounds cheaper in Switzerland than in England," Henderson recalled.
He was educated at Mill Hill School and then volunteered with MRA's work of personal healing and transformation, exemplified by Caux.
He wrote his first book on forgiveness, The Forgiveness Factor (1996), to mark the 50th anniversary of the Caux centre. It is now run by Initiatives of Change International.
Henerson returned to America in 1979, with his wife Erica (nee Hallowes), whom he had married in 1966. They had met at the Skye Ball in Dunvegan Castle. They based for over 20 years in Portland, Oregon. There he became a presenter on public and cable TV programmes, giving over 1,000 radio broadcasts. His talks were published in three books, A different accent (1985), On history's coattails (1988), and Hope for a change (1991).
Among his 14 books, Henderson wrote All her paths are peace (1994), about women pioneers in peace-making, and Forgiveness: breaking the chain of hate (2002). He wrote several on his visits to India, including Experiment with Untruth (1976) about the Emergency period of dictatorship imposed by Prime Minister Indira Gandhi.
Michael and Erica retired to Westward Ho! In Devon in 2000 and moved to Taunton, Somerset, in 2018. He remained a keen tennis player and was in the 75-year-olds Devon tennis squad.
Sharp witted till the onset of Alzheimer's ten years ago, Henderson died in a care home near Rochdale, Lancashire, on 6 May. He is survived by Erica, their daughter Juliet and two granddaughters.                             
First published in The Church Times, 10 June 2022