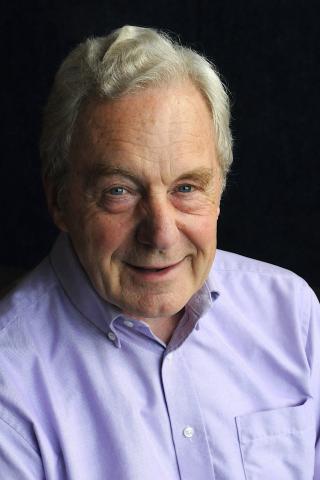 During a lifetime spent exploring and promoting the power of reconciliation and forgiveness following conflict and war, British journalist and author Michael Henderson has become known as an "optimistic realist". He is the product of a Protestant Irish family who were expelled from Ireland upon its independence in 1922 and was one of thousands of children evacuated overseas from Britain during World War II.
Seventy years ago, on 10 August 1940, during the darkest days of World War II, the Duchess of York weighed anchor in Greenock, on the Clyde, to make the perilous journey across the north Atlantic. On board were hundreds of young British children being evacuated to the United States and Canada. Among them were Michael Henderson, aged eight, and his younger brother Gerald, six. They were to remain in the USA for five years.
Over a million British children were moved out of cities, where they might have been bombed, to safer places around the UK. What is less well known is that thousands of children were sent abroad, privately and under a government scheme, to Australia, New Zealand, South Africa, Canada and the USA, due to the threat of a German invasion.
According to a Gallup Poll, five million American families were ready to host British children. Over 3,000 crossed the Atlantic to the USA, though this evacuation ceased after the City of Benares was torpedoed by a German U-boat in September 1940, killing 77 children.
Michael and Gerald were put on a train from London to Greenock where they would board the ship sailing to Halifax, Nova Scotia. As the train left, Michael called out to his mother, somewhat precociously, "See you after the duration". This became the title of his 2004 book, which tells the remarkable stories of what happened to the children sent abroad—an experience that was to change many lives.
Though painful for their parents, it was all very exciting for the two Henderson boys. "What might seem traumatic--the separation from parents--was, for the two of us, not only the start of a transatlantic adventure but also the impetus for an ongoing spiritual journey," Michael says.
Conflict and displacement had been themes running through centuries of family history. Henderson's ancestors arrived in Ireland from Lancaster in 1670. They were part of the Irish Protestant minority who, he says, "dominated the Catholic majority" during centuries of tension and division. The family were landlords and for many generations also served in the Royal Irish Constabulary--the police.
Henderson's grandfather, Ben Tilly, like many Irish, served in the British Army and was wounded in France during World War I. When Southern Ireland gained independence in 1922 after years of bloodshed between Republicans and British forces, he was warned to leave the country by the end of the week or be shot. The family joined thousands of other southern Irish Protestants in becoming "involuntary migrants". Michael was born in London 10 years later.
Arriving in the US as evacuees in 1940, Michael and Gerald lived with a family in a suburb of Boston. When they returned to Britain in 1945, there were "certain stresses after being apart in this formative five years", he says. "It was hard for us to live into the lives of our parents who had endured years of bombing, fire-watching and the threat of V1 and V2 bombs and who would jump at any loud sounds." Their parents' admonitions would be met with, "We don't do it that way in America; we don't do this; we don't do that." So much so that the USA became known in the family as "we-land".
In order to re-establish family unity, they visited a centre for reconciliation in Caux, Switzerland, in 1947 which had opened the previous year. "As a 15-year-old I was persuaded to go when I heard that I could buy ice hockey skates four pounds cheaper in Switzerland than in the England," Henderson, at 78 still a keen sportsman, recalls.
They found more than family togetherness. While there, his mother, Erina, an Irish Protestant, was upset by a speech from an Irish Catholic Senator, Eleanor Butler, then a member of the Council of Europe. Erina's reaction was: who is this woman talking about unity in Europe when she chucked me out of my country? But in the spirit of the conference, she felt she should apologize to Senator Butler for the indifference she had shown to Catholics over many years. They became close friends. Senator Butler also apologised for "viewpoints which have divided me instead of uniting me to other nations and other parts of my own nation".
Stories like this inspired Henderson to write books on forgiveness issues, the first of which, published in 1996, marked the 50th anniversary of the Caux centre, now run by Initiatives of Change International.
Henderson returned to America with his wife Erica in 1979. They based in Portland, Oregon, for 21 years. There he gave over 1,000 radio broadcasts as well as becoming a TV presenter. He is the author of 11 books, mostly exploring peace and forgiveness, which have been commended by a number of public figures, including Martin Bell, the former BBC war correspondent and later MP, and John Sentamu, Archbishop of York. "So the uprooting in World War II, difficult as it was, became the source of a love for America and a springboard to a life of Christian service," Henderson says.
His latest book on forgiveness, idHNo enemy to conquer (Baylor University Press), tells remarkable stories of reconciliation in often extreme circumstances. It includes analysis from such figures as The Dalai Lama, Archbishop Desmond Tutu, the late Benazir Bhutto, Professor Rajmohan Gandhi, and the Chief Rabbi, Baron Sacks of Aldgate.
By Michael Smith, communications manager of Initiatives of Change, UK, and a member of the media ethics think-tank the International Communications Forum.
First published in Reform, the magazine of the United Reformed Church, UK, November 2010. .