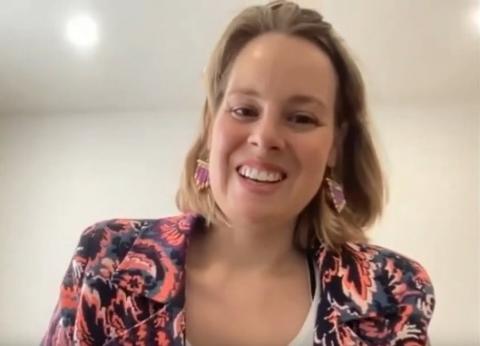 Dutch social entrepreneur Merel Rumping tells how she has provided prosthetic limbs to persons with a disability in Colombia—350 people so far in a country that has suffered decades of civil war. Her vision is to set up a series of clinics in Colombia which will dramatically increase this number. Merel is the founder and CEO of CareWithinReach and Profort, two companies which aim to bring orthopaedic care right to the backyard of those who need it most.
She was speaking to an online dialogue of Initiatives of Change in Business and the Economy (ICBE) on 30 March, hosted by Antoine Jaulmes in Paris.
Merel studied political science and international relations and envisaged a diplomatic career at the service of her native Netherlands. But a Colombian man she met in Caux, the international conference centre of Initiatives of Change in Switzerland, led her towards another path. He put her in touch with a Dutch businessman working in the field of orthopaedics.
Merel immediately saw the point of decentralising orthopaedic care in Colombia, since she had worked there previously: many people don't have access to proper care because they live too far away from the orthopaedic clinics. Now she is living in Colombia where she moved recently to support the opening of her clinics.
The first clinic was opened in early 2020 in the city of Tunja, a 3-4-hour drive from the capital, Bogota. Two more clinics are on their way. The initiative wasn't all easy. Covid-19 as well as social unrest hindered the operations in the first three months of the new clinic; an important piece of machinery broke down; and materials supplies are short due to the post-Covid logistics crisis. But in between there were four months of positive and profitable running of the clinic. So far 350 clients have been gratefully served.
Merel Rumping remains positive and upbeat about the path she has chosen. She is aware that her company delivers an important service to many people with a disability—40 million people worldwide and 500,000 in Colombia. The nation's healthcare is of high quality, the healthcare system is ranked 22nd in the world out of 191 countries and 95 per cent of Colombians have health insurance.
However, the country is huge. Its area is comparable to France, Germany and the United Kingdom combined, and many people with a disability live too far away from hospitals delivering good quality prosthesis. The need is growing because of the ageing population and of the prevalence of diabetes which can also lead to amputation. Rumping hopes that in a matter of seven years they will have opened seven clinics, cared for 40,000 people, and created over 60 jobs.
How will this be achieved? To bring orthopaedic care to those who need it, a network of franchised clinics will be set up in every secondary city. With reduced overheads, access to state-of-the-art equipment, technology and know-how, and with the appropriate support from the head office for sales, HR, finances and certification, the local clinics will operate with limited costs and at close range to their patients. The model is of course scalable to other countries, provided there is a well-functioning healthcare insurance system in place.  
As a social entrepreneur, Merel believes in the power of social entrepreneurship; companies that through their services or product realize social change. They exist purely to solve societal issues, whilst being financially viable. All based on the needs of the client; this drives the quality and service. 'We believe in a world that works for everyone,' she said, 'a world in which each individual can live up to their fullest potential.'
The Zoom participants asked questions about the financing of the company. It had come from social investors plus a small grant from the Dutch government. But otherwise, the company relies on income generated from the paying customers and their insurance companies.
Participants also compared the merits of privately-owned and public, non-profit health services. Private companies operating in the health sector had to be very demanding in their ethics, Rumping commented, and not always try to push more products and services, but really stick to the public's needs. Additionally, her company puts 10 per cent of profits aside to cater for the poorest, who are unable to foot the bill of care, and/or of the associated travel.
Another participant asked about the internal culture of the company, a question that struck a chord with Merel who described with enthusiasm the company's corporate values and vision, the induction process for new employees, and the team spirit which is reinforced by the staff's social events.
Confronted by many challenges, Merel keeps in mind a quote by Ellen Johnson Sirleaf, former Liberian president: 'The size of your dreams must always exceed your current capacity to achieve them. If your dreams do not scare you, they are not big enough.'
Already a lot has become reality. Merel is not just dreaming, she is making a world happen where everyone is allowed to live up to their full potential.
Article by Antoine Jaulmes