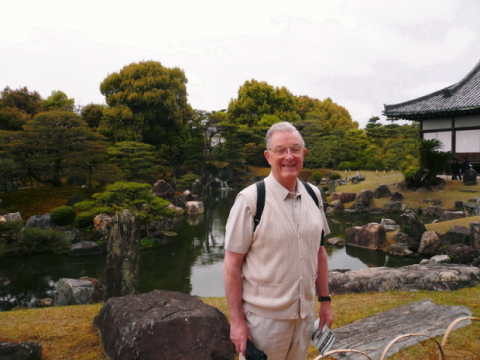 My friend and colleague Richard Hawthorne, who has died aged 86, was a Nottingham businessman who became an unlikely champion of community relations. He was joint chairman of Hawthornes printers, a company that emerged out of a small printing works and stationery shops in the city owned by his father.
In 1968 Richard experienced a turning point after seeing a musical revue in London called India Arise, a production that celebrated the diversity of that vast country; it had a profound effect on him. The next day, he sat by the Thames pondering what the 'inner voice', as Mahatma Gandhi called it, was asking of him, a member of the Church of England.
He decided to reach out to people he might otherwise have kept at arm's length. This led him to engage with community leaders, initially, in 1970, by joining Nottingham's Commonwealth citizens' consultative committee.
He was born in the city, the second of five children, to Tom Hawthorne and his wife, Sylvia (nee Reddish), a PE teacher. Leaving school at 16, Richard joined the family business as an apprentice; he worked there until his retirement in 2007.
In 1996 he became the founding chairman of Nottingham Partnership Council, an independent body covering four inner-city neighbourhoods that brought together business and community leaders and local government councillors, at a time when Nottingham's deprived areas had a reputation for gun violence. He remained in the role for nine years.
From this emerged Holding Hands Around St Ann's, an annual day-long demonstration of community unity in the St Ann's district. It was inspired by Richard's colleague on the Partnership Council Maxine Cockett, a West Indian single mother, who regarded Richard as an adopted father. 'We were ebony and ivory,' she said.
Richard was a UK representative of the US Hope in the Cities movement, based in Virginia, which emphasises 'honest conversation' on race, reconciliation and responsibility. He was appointed MBE in 2002 for his services to community relations.
He and his wife, Meili (nee Gillison), who were married in 1982, were active members of St Nicholas's church and frequent participants in annual summer conferences of the Initiatives of Change movement in Caux, Switzerland.
She died in 2006. Richard is survived by his siblings, seven nephews and three nieces.
This obituary was first published in the online edition of The Guardian, 17 May 2018
Richard's story can be read in a booklet called Printer's Pie, either online, or in print (please contact the IofC centre in London here)