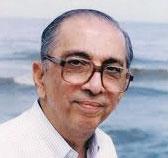 Russi Lala, a prominent member of the Parsee community in Mumbai, India, was the first book publisher to establish an Indian publishing house in London. He ran Asia Publishing House, opposite Charing Cross Station in The Strand, from 1959 to 1963. He was in his early 30s and was the first non-European member of the British Publishers Association, becoming a friend, as he wrote in his memoirs, of "gentlemen publishers of a very high order. For over a hundred years the British had sold us books, and it was now our time to return the compliment."
Lala had a prolific career as a journalist, editor, author and philanthropist, writing a series of best-selling business and leadership books, particularly on the Tata corporation, owners of Corus Steel, Jaguar Land Rover and Tetley's Tea.
On his return to India, he became the managing editor of an English-language political newsweekly Himmat (an Urdu word meaning Courage) in Mumbai. Its Chief Editor was Rajmohan Gandhi, a grandson of Mahatma Gandhi. He had led a national campaign for a "clean, strong and united" democracy, to tackle corruption and communal tensions, and the magazine grew out of this.
Lala edited Himmat for ten years from its launch in 1964, nurturing its staff. Some went on to be among India's leading political and campaigning journalists. Kalpana Sharma, who was to become deputy editor of The Hindu, succeeded Lala as editor, and when Prime Minister Indira Gandhi imposed a State of Emergency, 1975-77, the magazine was praised by the New York Times for its dogged stance against censorship.
Lala wrote several best-selling books about Tata's, including its definitive history, The Creation of Wealth (1981) which went to three editions, as well as a fine biography of the Tata chairman, J R D Tata, entitled Beyond the Last Blue Mountain (1992). He followed this with a biography of the company's founding father, Jamsetji Tata, entitled For the love of India (2004). The President of India attended its launch.
But Lala's most personal and engaging book was Celebration of the Cells: letters from a cancer survivor (1999), about his own battle against lymphatic cancer. None of his other books, he wrote, "has given readers greater help and the author greater satisfaction."
After completing Heartbeat of a Trust, a book about one of the Tata trusts, in 1982, Lala was invited to be its director in 1984, a position he held for 18 years. Uniquely in India, Tata Sons, the parent company of the Tata industrial empire, is two-thirds owned by its charitable trusts. Sir Dorabji Tata, son of Jamsetji Tata, left his wealth, including shares, landed estates and a diamond twice the size of the Kohinoor, to a philanthropic foundation in his name. Lala ran it from the Tata headquarters, Bombay House, giving grants particularly in health care. In 1993, he also co-founded the Centre for Advancement of Philanthropy and was its Chairman till 2008.
Russi Manekshaw Lala was born in Mumbai on 22 August 1928, the son of a solicitor. He studied history and law but found the appeal of journalism far more attractive. An atheist in his youth, he discovered "the thread of God" in his life—which provided the title of his autobiography (2009)—at the age of 25. The catalyst was a stage play he saw called Jotham Valley, presented by the Moral Re-Armament movement, in 1952. From then on, Lala acquired a discipline for early morning "quiet time" for silent reflection, which he regarded as "the secret of life".
This had an unprecedented effect on his journalism. He had been a brash and outspoken critic of the Chief Minister of Maharashtra, Morarji Desai. "Journalistic power is a heady drink, especially when you are a nineteen or twenty….," Lala was to write. "In tilting at giants like chief ministers, one feels bigger than one really is." Now he felt impelled to write a letter of apology to Desai for his "vicious and malicious" attacks. Despite Lala's fear of ridicule, his editor backed him up in an editorial. For his part, Desai, who became Prime Minister of India in 1977, began to hold Lala in great respect.
Lala married Freny Daruwala in 1955. It was an initially turbulent but ultimately enduring relationship which survived for 55 years, she predeceasing him, childless, in 2010. Lala's infectious laughter and sense of humour endeared him to friends all over the world.
His last book was The Art of Effective Giving (2011), about renowned Indian and international philanthro-capitalists. His 14th book, Counting your blessings, is due to be published posthumously. He died in Mumbai on 19 October, aged 84, after suffering a stroke.
First published in The Island, Sri Lanka, on 27 October 2012