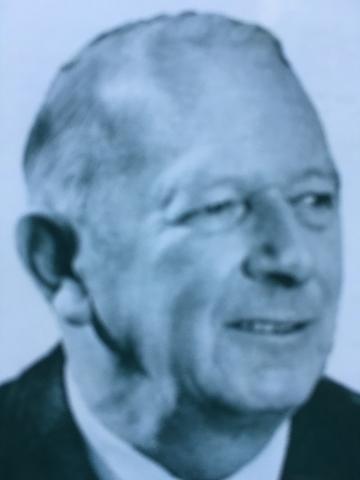 The international dairy expert Stanley Barnes was passionately committed to the alleviation of malnutrition, particularly among children in developing countries at a time when one in five would die before the age of five. He advocated the use of milk produce, including skimmed-milk powder, despite the controversies surrounding the inappropriate use of powder as an alternative to mothers' milk sold directly to them and promoted by food multinationals. Instead, Barnes's approach was to set up milk-processing plants throughout Asia.
He regarded milk as "the perfect food", containing fat, protein, sugar, inorganic salts, minerals and vitamins. If each person in developing countries could be assured of having a quarter-litre of milk every day, he said, "the whole pattern of disease in those countries would be changed". Barnes saw his convictions being put into effect in Malta and five South Asian countries where he served.
The title of his landmark 1980 book, 200 Million Hungry Children, was taken from the UN's estimate of the scale of the problem. At that time, 10 million children were likely to die and 90 million would not survive a serious illness. "In the majority of cases death is directly or indirectly due to malnutrition," Barnes wrote:
The fact that we can tolerate such an appalling wastage of human life in a world where there is enough food to meet the basic needs of every person cannot be justified.
Stanley Barnes was born in London in 1908 and studied agriculture and dairying at the University College of Wales in Aberystwyth. He managed a cheese factory in South Wales but the company soon put him in charge of supervising a new milk-processing factory in the Cotswold village of Moreton-in-Marsh. There Barnes encountered Frank Buchman's Christian movement the Oxford Group. This and its later campaign for "moral rearmament" (MRA) were to inform his moral conviction for the rest of his life.
In 1935, at the age of 27, Barnes moved to Malta to manage the British colonial government's first goats' milk pasteurisation scheme. At that time, some 5,000 goats, out of the island's goat population of 50,000, were herded each day into the streets of the capital, Valetta, to be milked directly into householders' jugs at the doorstep. It was an effective guarantee against dilution by unscrupulous milkmen. But the goats' milk carried a bacteria which caused undulant fever, a virulent disease leading to an average nine deaths each year. The new pasteurisation plant, opened by the Governor, Sir Charles Bonham-Carter, in 1938, totally eradicated the bacteria – and effectively cleared the streets of roaming goats.
In Malta, Stanley Barnes met and married Joyce Barnes, Assistant Matron of the King George V Hospital. They moved to Australia in 1947, where for eight years he was Project Manager for a rapidly expanding dairy company in Brisbane.
In 1957, the Australian government asked him to accept a year's post as Dairy Development Adviser to the Pakistan government. He was to report to the UN's Food and Agricultural Organisation on dairy development proposals for Karachi and Lahore. There the problem was not goats but buffaloes – some 40,000 to 50,000 in Karachi and 6,000 in Lahore. The government was keen to clear the streets and provide a better milk supply. Unicef had already tried to improve child nutrition through skimmed-milk powder provided through US aid. But, Barnes found, "Lack of proper facilities for mixing powder, poor water supplies and overcrowded and understaffed schools made implementation difficult." And milk powder given to children soon found its way on to the black market. It took several years before Barnes's proposal for a milk treatment plant in Karachi, including recombining milk powder, was implemented with funding from Unicef.
He returned to Asia as Project Manager for the Australian Dairy Produce Board in Thailand, where he took charge of a new dairy project producing condensed milk using Thai cane sugar. Three years in Singapore on a similar project followed.
Barnes moved to Indonesia in 1967, to his most challenging post, establishing a recombined milk operation in Jakarta as a joint venture with Australia. Colleagues believed it could not be done without paying huge bribes. But Barnes saw it as an opportunity to build relations between the two countries. He announced on arrival: "Some foreigners think you have to bribe in Asia to get things done on time. But I have staked my career on the basis that there are many who want to prove how trustworthy their country is."
The factory was duly completed a month ahead of schedule. But it was at great personal cost to Barnes. His wife picked up a severe illness in Jakarta and died, just before they were due to leave. It was his last posting with the Australian Dairy Board, and he was appointed MBE for services to the dairy industry and the Gold Medal of the Australian Society of Dairy Technology.
He spent the next 12 years based at MRA's Asian centre in Panchgani, India, at the invitation of Rajmohan (grandson of Mahatma) Gandhi. Stanley Barnes became a passionate advocate of India's "white revolution" that saw the nation become the world's largest milk producer.
In the last year of his life, Barnes – a jovial, warm-hearted man with empathy for the suffering of others – had been working on a new book to encourage other developing nations to learn from India's experience.
Stanley Frank Barnes, agriculturalist: born London 25 November 1908; MBE 1970; married 1940 Joyce Barnes (deceased; one son, one daughter); died Geelong, Victoria, 4 August 2001.
First published in The Independent, 24 August 2001