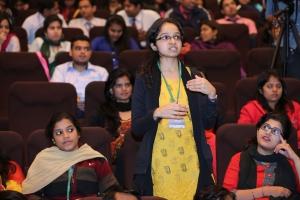 Over 500 MBA students packed into a huge auditorium in Pune, India, to hear Michael Smith, Head of Business Programmes for Initiatives of Change in the UK and author of the book 'Great Company', speak about 'Pillars of trust and integrity' on 20 January. He was accompanied by Talia Smith from Initiatives of Change's TIGE (Trust and Integrity in the Global Economy) business programme, and Saurabh Gupta, Director of Communications for Initiatives of Change International, who is based in Pune. They were at the Sri Balaji Society, one of the industrial city's top MBA business schools.
The Sri Balaji Society and Management Institute runs under the guidance of its Founder and President, Dr (Col) A Balasubramanian, who with his senior faculty and students, welcomed the two British guests. Professor Balasubramanian is renowned for making history in the field of education through creative methods. The Institute is built on the values of 'Discipline, Determination, Dedication' and is holistic and progressive in its approach to management education.
The second year MBA students, the majority in their early twenties, listened attentively as Mike introduced background concepts to a new consciousness of business that is emerging, including the social and ecological contribution of companies towards human well-being, a sustainable planet and the common good.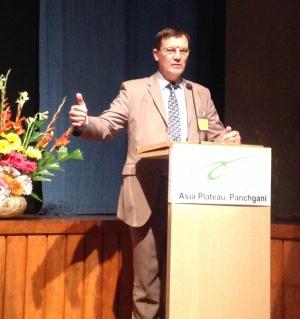 He encouraged the students to path out the way for their future. 'You have the great task of transforming the Indian and global economies in your lifetimes as you pursue your careers. The ethical values that you take into your careers are crucial for the future,' he said.
His presentation reflected on what those values might be, based on stories that exemplify such values. The stories were gathered from TIGE conferences in Caux, Switzerland, and CIB (Caux Initiatives for Business) conferences in Panchgani, India, both IofC centres. Although varied in focusing on aspects of personal transformation, the stories all had a common theme of trust-building, including sustainability, stewardship, cooperation, integrity and purpose which build trust. He also highlighted six common elements in the stories that focus on trust. TIGE highlights these as 'the 6 C's of trust': contractual, covenant, competence, character, conscience and commitment/calling. Smith took the participants through this journey of trust in business, concluding that these six C's and five pillars lead to the dynamics of trust.
Smith asked the students to discuss, in pairs: 'What do you understand by integrity'? A young woman responded: 'doing the right thing when no one is watching' and a young man said: 'having strong moral values'.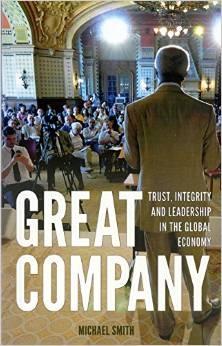 'If there is one thing I really want to stress to you for your future in business, it is to implement conscience-based decision making,' Smith stated. He highlighted Adam Smith's first book,The Theory of Moral Sentiments, in which the 18th century author and professor of moral philosophy referred 66 times to the 'Impartial Spectator', which acts like a 'demigod within the breast' -- in other words one's conscience. Mike explained that subsequent generations overlooked this aspect, which was at the core of his moral philosophy. 'The way we do things is as important as what we do,' Mike continued. 'The need is to rediscover Adam Smith's moral philosophy; to be true to our sense of conscience, and our consciousness about what needs to happen in the world; to follow our dreams for what we want to achieve in the world.' 
He ended by asking participants to think about what resonated and challenged them from the presentation, and to take a moment in silence to reflect on what they will takeaway from the afternoon.
The event had been arranged by Vinita Deshmukh, editor of the magazine Corporate Citizen, which is published by the Sri Balaji Society Institute. 
This was the second time Mike Smith and Talia Smith have delivered the 'Five pillars of trust' presentation, the first time being in September 2015 at York St John's University social entrepreneurship conference.
The Balaji Society bought 40 copies of the new Indian edition of Smith's book 'Great Company', which is due to be launched at the Caux Initiatives for Business conference being held at the Indian centre of Initiatives of Change in Panchgani
One Pune student posted on LinkedIn afterwards that the presentation had been 'awesome'.
Photos by Yusuf Khan