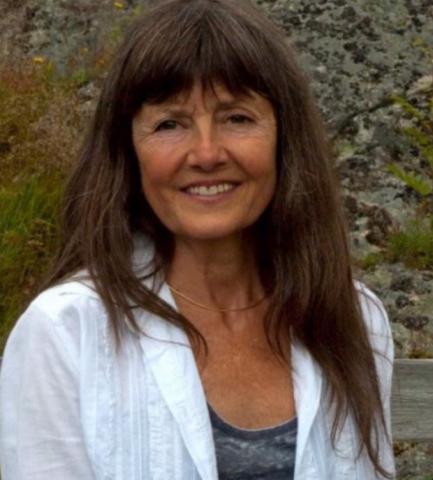 The Swedish actress Vendela Tyndale Biscoe (nee Lofgren)—whose British husband Philip was also an actor—might have become an internationally known Scandi Noir actor. She studied at the theatre academy in Malmo alongside such stars as Krister Henriksson (of 'Kurt Wallander' fame), who remained lifelong friends.
Following the premature death of her father at the age of 44, when she was seven years old, her life descended into drugs and alcohol abuse, as a way of dampening her grief.
While socializing with her friends, she listened to the soundtrack of Andrew Lloyd Webber's Jesus Christ Superstar. At the point of Jesus' crucifixion, Vendela said she heard a voice saying: 'I have done this for you, Vendela. What have you done for me?'
She gave up drugs and returned to the Christian faith of her childhood, gaining a longing to share her new-found faith and experience. This had the effect of strengthening her natural spontaneity and openness with all kinds of people.
Vendela was the youngest of four children born on 24 July 1950 to Stig and Ingeborg Lofgren in the city of Boras, east of Gothenburg. From an early age she loved the limelight, singing to her own guitar accompaniment.
Graduating from the Malmo drama school, she landed a coveted life contract with the Uppsala City Theatre in 1974. However, she resigned in order to dedicate herself to the theatre productions of a global campaign for 'moral and spiritual rearmament' (MRA, now Initiatives of Change), with which her parents had been associated.
MRA's centre for post-war reconciliation had opened in Caux, Switzerland, in 1946. There, in 1974, Vendela appeared opposite Philip in a reading of Mr Brown Comes Down the Hill by the British playwright Peter Howard. The play's director suggested that Philip might offer her help with her English pronunciation, to which she didn't take too kindly.
Her initial coolness towards Philip melted when they starred as young lovers in Peter Howard's play Through the Garden Wall, staged in Caux in 1979. The play, about neighbouring families, was an allegory for the class war during the years of the Cold War.
They were married in Stockholm six months later in January 1980. For 11 years they based in London, travelling internationally with the theatre productions of MRA, as well as spending time in India and two years in Zimbabwe. They moved to Sweden in 1992 and learned Russian, including an intensive language course in Moscow. Vendela became agent/manager for the Russian concert pianist, Victor Ryabchikov, launching his international career and producing nine CDs over 17 years.
In 2010 she and Philip moved to the island of Tjörn, north of Gothenburg, where Philip continues his work of recording audio books.
Vendela waged a battle against an inherited kidney disease, from which her father had died. She travelled the 70 kilometres to Gothenburg for dialysis three times a week for two and a half years.  In February 2017 she received a kidney transplant but contracted cancer, from which she died on 9 June 2018, aged 67.  They had no children and she is survived by her husband.